Canon Pixma MG3250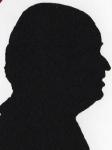 Review controls
While most will use this sitting on a table or desk, it can work from a wide shelf or even on the floor behind a sofa if the lounge police dislike the black colour. It can be connected via USB or by wireless meaning it need not be in sight.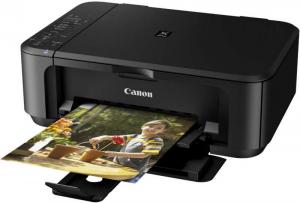 click image to enlarge
It is 42x30x15cm, add around 5cm to raise the lid on the flatbed to insert pages. You will need around 20cm extra to the second figure the depth to allow A4 paper to emerge from the output tray, so 42x50x20cm is total space in use.
Both USB and the power lead connect back left and as Duplex is automatic no further space is required for this action.
There are a total of eight buttons and several LED's along with a numeral display all along the left side of the top of the unit. For most users only the one nearest the back the on/off button will get more than the occasional use.
This is a four ink - two cartridge - offering and the front pulls down to allow easy access to change them when required.
Setup to install everything took around 20 minutes and took 500MB of hard disc space.
The front flap drops down to form the paper input tray and you adjust its size with sliders should you want to print on other smaller sizes than A4. I do find it somewhat annoying that the paper output tray only half opens at this point and if you do not manually flip it to 90degrees printing will not take place until you do this.
Printing the nonsensical 200 word document came through at 16PPM and the more normal 1500 word document (spread over four pages) at 13PPM, all my text tests use what Canon call 'Fast' their other options are 'Standard' and 'Best' but although the fast is quickest there is no discernable print quality drop as blacks are still clear and sharp. It has an automatic Duplex feature that can be activated by a single tick box the line up is excellent but of course printing is slower.
The timing I do for photographs goes to the other end of the scale an A4 borderless image printed in 'Best' mode takes 3½ minutes. The quality is excellent and by taking that little extra time the image emerges dry.
Copying can be done from the unit without intervention from the PC in fact it does not even need to be connected. There is some reduction and enlargement available. Printing an exact copy in monochrome takes 15 seconds; the same image in colour takes 30 seconds. All my timings are for a single copy from switch on of the unit.
Everything described so far can be done either using Canons software or should you have a favourite package that or even something like Windows print should you wish. Canon has recently totally revamped their software package and everything within it can be accessed from 'Canon Quick Menu' to allow easy access.
It can be loaded at boot up or if you wish from a desktop icon when you wish to use it. There are 14 icons arranged just above the Windows tray in the form or a reversed 'L'. It includes several completely new features.
A basic scan can be completed in around 30 seconds if you allow it to select all the settings in around 30 seconds from placing the page on the flatbed. It is ideal for the novice, however you can still make choices yourself when you know more.
The Canon Pixma MG3250 is available from the link below for £51.05 with free delivery.
http://www.amazon.co.uk/gp/product/B008UP0I2W?ie=UTF8&tag=gadge0a-21&linkCode=as2&camp=1634
http://www.canon.co.uk/For_Home/Product_Finder/Multifunctionals/Inkjet/PIXMA_MG3250/