ROKU 3 for Streaming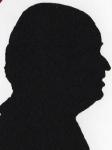 The thing that enticed me to look at Roku 3 was its ability to stream sound so that you can have no sound from your TV and still hear sound through the ROKU 3 unit to headphones or earbuds, ideal for those who don't want to disturb others.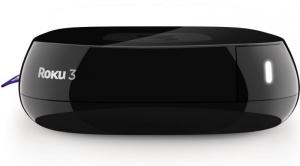 click image to enlarge
I have not seen either the Roku 1 or Roku 2 which I understand are still available.
You will need to purchase an HDMI cable to connect the small 8x8x2.5cm box to a port on you TV. It comes with a small power brick – 1.5metre lead – that also connects to the Roku 3 box.
Both these connections are on the rear of the box split by an Ethernet connector – you can also connect via Wi-Fi - below the HDMI connector is a Micro USB port.
Plug in and switch on the box and tune to whichever HDMI port you connected to. A screen appears to take you through the basic setup and if you use Wi-Fi a screen appears with the alphabet to allow you to use the supplied remote to enter your passcode. This took around three minutes.
Another four minutes was taken while you updated the software and entered your credit card details this they claim will never be used unless you purchase some of the media channels that need paying for, you need to set a four digit pin, which if you have kids is vital.
There is a twenty page well illustrated booklet that explains how everything works.
The remote is 14x4x2.5cm and runs on two 'AA' batteries that are supplied. The 14 buttons take a little getting used to, there are volume up and down buttons on the right side and headphone/earbud socket is on the left side. An extended wrist strap is attached to the base which is so it can be used to play games; Angry Birds is one of the free items supplied.
Several catch up services are provided including Demand 5 BBC iPlayer and 4OD but not ITV Player. Other free services include Sky News and Now TV but the latter does carry a lot of paid content so beware, remember they have your Credit Card number. Another service recently added is the ever popular YouTube.
Other free services seem to have a lot more ad breaks than terrestrial services.
If you delve into the 'Music' section of Roku you can download some extra software to make the USB port and micro SD slot live so you can view items you already have without payment.
To access content from your PC you will need another tool called 'MyMedia' this software needs to be also installed on the PC and be on the same network (Ethernet or Wi-Fi) as the Roku 3.
There are also Apps for Android and IOS which can be a little less clunky than the remote control provided.
One feature I did like was the ability to view without sound with either the earbuds provided or another headphone set which means others need not be disturbed.
I am not a huge fan of games but as stated Angry Birds – one of the world's most addictive – is supplied but practice is required to master the remote control.
The second link goes to the Roku site which lets you choose which model suits you and gives further details.
Roku 3 is available from the first link below for £94.99 with free delivery.
http://www.amazon.co.uk/gp/product/B00E37LZVY?ie=UTF8&tag=gadge0a-21&linkCode=as2&camp=1634