groov>>e Personal Cassette Player & Recorder with Radio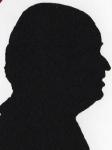 I thought I would have reviewed my last cassette player quite a long time ago but if someone now brings one out they must think there is still a demand, perhaps the mix tape as a way of breaking the ice with a partner may be making a comeback.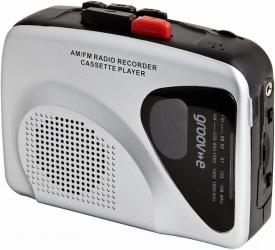 click image to enlarge
While this unit is small it can still be useful as it is a recorder as well as a player and it also has a radio built in. It runs on two AA batteries or an AC adapter not supplied.
It is 11.5x9x3.5cm and weighs 200grams.
The left side has the AC adapter entry point. The right side has headphone connection point two slider buttons for Tape/Radio and AM/FM these are split by a wavelength adjustment wheel. The back has the battery bay and a substantial belt clip.
The front has a pull down entry point for cassettes which you insert back first and they run right to left and a quite good speaker. The base is clear apart from some ridges to allow it to sit securely. This leaves the top that has a volume control and three push buttons in a row for Stop, Fast Forward and Fast Reverse, in front of these two larger push buttons for Play and Record. The last mentioned is red the rest are black. Finally a microphone towards the right front edge of the top.
There are a basic set of earbuds included as well as an eight side small Instruction Manual.
The manual covers everything which if you new to cassette players as I suspect the current generation are, may well be required.
I was a little concerned with the pull open nature of the front of the unit which of course is not designed to open whilst playing and doing so is likely to cause the tape to tangle which those of us who grew up with such items know they love to do without any encouragement.
I dug out some old cassettes and was happy to play them in a quiet room and a little surprised the small low specification speaker gave a reasonable sound. If you attach a decent set of headphones the sound is quite acceptable.
The radio I found tricky to tune partly because the tuning wheel on my unit was very stiff and making the very small movements required was difficult. However with headphones or earbuds attached it improves because the cable is also the aerial. However while I got a good clear very listenable voice with headphones where I was exactly on station unplug the headphones and the speaker gave poor response simply because the lack of aerial meant a lot of static. I never found anything on the AM band to listen to as the aerial seems to only help with FM.
I know this is a value product but if it was DAB/FM rather than AM/FM and had a better tune control then it could have a market, it is possible to record from the radio to the cassette as well as to record voice/music direct using the microphone but it is not Hi-Fi.
The groov>>e Personal Cassette Player & Recorder with Radio is available for £17.99 with free delivery.
http://www.amazon.co.uk/gp/product/B019J4N6GW?ie=UTF8&tag=gadge0a-21&linkCode=as2&camp=1634