BoomBocs Classic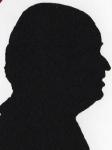 Are you old enough to remember Ghetto Blasters? Then if you increase the size and weight you have a rough idea of this rectangular box however the sound it gives even from a low level stream from a mobile phone via Bluetooth is well, that vastly over used word WOW.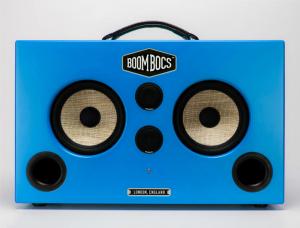 click image to enlarge
It is 49x22x31cm, it weighs 9.5kilos and is available in Blue, Red, Orange, Green, Yellow, White, Grey or Black. The one I was sent was Blue. It has a very solid feel and has a black leather carry handle screwed into the top of the unit.
You can purchase it with an optional cover and or battery pack, the latter is said to give between 15-20 hours playback time at a good volume level, I was sent the Classic without the options, so the mains lead that is provided needs to be used at all times.
It can be connected via Bluetooth or 3.5mm lead (provided).
Before I go on about the excellent sound quality from this UK made unit let's give you some of the relevant facts. It has a 200 watt digital amplifier @ 4 ohms.
There are a total of six speakers on the face including a pair of 6.5 inch Flax Sandwich Woofer Cones and a pair of 1.75 inch Tweeter Type Inverted Aluminium/Magnesium Domes with the magnets being Neodymium Rings.
When I first unboxed it with my phone nearby I connected Bluetooth and started streaming and then was very glad my phone was still in my hand to reduce the output level by 90% or all my neighbours would have been unhappy mind you I doubt that I would have heard the door or phone with their complaints.
The connections all in a single line at the back are a Bluetooth/Aux flick switch (left/right), Aux 3.5mm socket and mains input all towards the right back with an on/off flick switch (up/down) near the left.
The carry handle is black leather and is anchored 15cm from each side; the leather is comfortable to hold and is 3cm wide.
The mains lead is 1.4 metre long and this connects into 1 metre long lead from the A/C adapter box. There are four solid rubber feet on the base.
As with all speakers I test with a range of both audio and speech files but before I searched out my MP3 player where I keep these files I was sure it would pass this test without problem and I was right.
Next to move on from poor quality MP3 input which as stated sounded fine to CD quality and other lossless formats that also sounded superb.
This is a top quality unit with excellent quality connections.
Now for the minus points it's not cheap but then quality never is. The other point is why is the substantial sized power adapter not built in rather than being outside the unit.
Apart from the amount of volume the sound is excellent at all ranges of the sound spectrum with plenty of bass and treble.
I liked this unit and while the light blue paint finish on the cabinet would not be my choice of colour it is certainly noticeable but even if you played output at half volume you would certainly not fail to get everyone's attention.
The Boombocs Classic is available from the link below for £699.99.