Raumfeld Sounddeck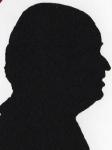 Sound Bars have been around for a while, they started life as a means of improving the quality and range of the poor quality TV sound, they had one drawback the need for space in front of the TV which could be a problem, enter the Sounddeck and the TV sits on the deck.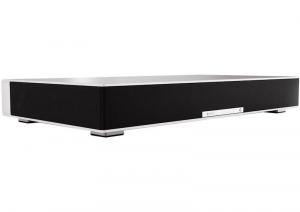 click image to enlarge
This is a quality item and as we all know quality is not cheap. A while ago I visited the then new Harrods Technology Department and today you should be able to see most of the Raumfeld range there.
It is 73x39x9cm and it has a chunky rubber foot at each corner to sit it on and to allow sound to percolate from under the unit, these feet raise it another 10cm from whatever you sit the Sounddeck on.
Both sides and the front are covered in black fabric and behind it are the speakers. The front has a discreet on/off button and beside it two white LEDs which are explained in the Quick Start Guide.
The top is of course solid to allow you to sit your TV on, however while this works as an excellent set of speakers to improve the naff sound of most TV's by Optical, RCA or HDMI it is also a unit to promote sounds from other sources.
The Sounddeck has six speakers and two down firing sub woofers as well as a built in 280watt amplifier.
It comes with a 15x4x1.5cm 14 button remote control which allows you to control the sound output from your TV and it has four preset buttons to give stereo, arena, theatre and voice modes. The last of these can be vital to improve sound for those of us watching modern movies.
Eight sides of a Quick Start Guide should get you started and hardly a mention of the TV in it because you download an App from either the Android or iOS store and this gives you access to what is available to hear quality recorded music from your phone via WiFi to the Sounddeck.
There is a single lines of connections on the back, first a setup button (explained in the Quick Start Guide) HDMI (ARC), Ethernet, USB, Optical, RCA and finally power in.
The App is essential for playing your stored music via the Sounddeck. However for other things it can work as well if you have a Spotify Premium account you can play music through the Sounddeck as it has Spotify connect built in; your phone then basically becomes a conduit showing what is playing. Other Apps are also possible like Tunein Radio which effectively gives you 'Internet Radio' through the Sounddeck.
Having found a station playing music to my taste you can even turn your SmartPhone off as the stream continues to the Sounddeck you do of course lose the ability to see track names doing this.
You of course have access to other services like Tidal, WiMP, Napster, SoundCloud and Last.fm.
The sound quality is as good as a quality Hi-Fi and even TV sound is improved, if you have other Raumfeld products it even supports multi room.
There is of course one minus point, hopefully my mention of 'quality' and 'Harrods' has prepared you, it's not cheap. The current price on the link below is £799.