Motoroa RAZR i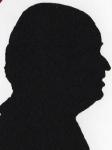 Review controls
A new Smartphone seems to arrive often, a new Apple offering has people queuing round the block, a new Android offering less so, but you can do more of what you want, a new Android smartphone with an Intel Chip.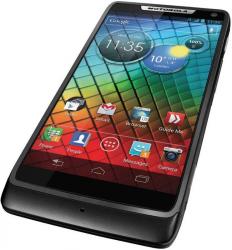 click image to enlarge
Yes the Intel smartphone is alive and fast in the form of the Motorola RAZRi. It is smaller than a couple of recent offerings and uses a micro SIM and micro SD for added storage but even study fingers like mine work well with it.
People I have shown it to often say that is heavy it's actually 126grams but the case is metal and it should survive the odd knock with ease.
The left side has a single flip out to cover the micro SIM and the micro SD insertion point to me this is a little long but once clicked in place how often do you move it? Also on the left is an uncovered Micro USB port for charging.
The base is clear the right side has a camera button, volume up/down rocker and on/off button. Finally the top has an earbud jack.
It is 12.2x6x1cm, the viewable screen is 10.5x5.4cm which shows how close to the edge the viewing of the screen is. There are two cameras the front facing one is for Skype or other such services and the rear one is a rather good 8MP offering that can take burst mode as well as single images or videos and yes it does have a flash.
My unit was black and the back of it is covered by a material that feels grippe even when your hand is wet or sweaty.
It runs Android 4.04 (Ice Cream Sandwich) and the battery which has enough charge for a normal 'heavy' days use, in fact looking at the battery status I often forget the last time I charged it in 'normal' use for instance yesterday I was out from early morning to mid afternoon and only turned it off when I returned home this morning I have 84% battery left, so seven hours on with several calls and email collection used 16%. Some however will not like the fact that the battery is not user changeable. But for the really heavy user then there are many small external charging batteries available so this really should not be a huge problem.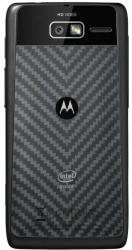 click image to enlarge
The processor is an Intel Atom 2GHz offering that seems in my various tests to be rather fast without seeming to adversely affect battery life. The viewable screen is 960x540 which gets that bit closer to that viewed on a PC. Scrolling and enlarging are very rapid and even long documents are very readable with the basic display fonts.
It comes with 8GB of on board storage and you can add extra via the Micro SD slot. From screen lock to taking a photo can be less than one second which if you try this with your current phone I doubt it will come close.
Booting is just 30 seconds while shutdown is 6 seconds. The home screen has a few tweaks with some icons like the clock being reversible between digital and analogue, your home weather forecast can be reversed for
Another town or city, the battery state can be reversed to show another stat. You still have a top line of icons, Google search bar typed or spoken, up to eight of your favourite apps and even the bottom line – which is often fixed – allows you to show four basic icons with the app screen also available. Finally there is the three controls back, home and recent at the base of the screen.
I have been using this for around a month and as yet I cannot really find any problems with it. Some want to watch iPlayer and they will soon be able to do so as I am told BBC are writing an HTML way to avoid the need of flash which at this time does not work with Intel. I hesitate to say this has all things covered an update to Jelly Bean (Android 4.1) should be available next year.
The Motorola RAZRi is available from several store groups or various contracts. For SIM free at £344.99 with free delivery see below.
http://www.amazon.co.uk/gp/product/B008QBBDQ0?ie=UTF8&tag=gadge0a-21&linkCode=as2&camp=1634