Roberts R9958 poolside analogue radio

Published 28 Aug 2007 Author
petew
A splashproof 'poolside' radio, although with the summer we've had so far the splash is more likely to be from up-above as everyone dashes indoors!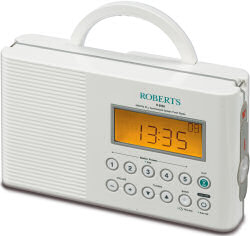 Roberts have been producing radios since 1932, when the company was started by Harry Roberts. In that time they have built up considerable experience in radio technology. Rather than being overtaken by late arrivals I'm very pleased to see that Roberts have kept up with the latest trends in their industry. Their current range provides excellent quality and looks good.
The 'Poolside 2' splash proof radio from Roberts is intended for 'poolside use' - for those of you that have a pool. In my case it's more likely to find use in the bathroom where it should survive both the condensation and odd splash. I think it's also an ideal candidate for a kitchen environment where the clean lines and wipe-clean surface would be idea.
The unit is very well built - weighing an impressive 1Kg without batteries certainly gives a very solid feel to the product. Opening the box gives a couple of surprises. Firstly, although it can be powered from a 3V mains adaptor, no adaptor is in fact supplied. It is very clearly and seriously aimed at poolside use on battery power. Secondly the radio doesn't have built in batteries - instead it takes two 'D' sized cells.
You can tune both manually to a specific frequency or let the radio scan for stations.
This is a traditional mono analogue radio providing tuning in the FM and medium bands. It does not provide DAB radio capability, for very good reason. DAB takes a lot more power than a traditional analogue radio. Sticking with analogue therefore makes a lot of sense for a battery powered product, in this case a quoted 120 hours on a single set of two 'D' sized batteries (I've not tried this!). A comparable DAB radio is likely to get 20 hours from a set of six 'C' cells.
The display is very clear and well lit and the controls in general are very intuitive with all buttons a good size. On the whole this is one of the least fiddly radios I've used for a long time.
Analogue switch off?
Should you buy an analogue radio now? Am I going to have to throw it away in a couple of years when the government sells of the analogue spectrum for some obscenely large amount of money? Well - in a word no. This article makes interesting reading. There are between 100 and 150 million analogue radios in the country.
In an age where all government parties are trying to appear friendly toward the environment, can you imagine the impact of forcing all those radios to become obsolete for no reason other than to free up radio spectrum?
Radio is also very different to television. televisions already have video inputs (SCART, S-Video) and set-top boxes at the norm. Most radios don't have an auxiliary input and are often not in a static location - the equivalent of a set-top box for radio is not feasible!
Analogue radio is going to be with us for a very long time!
At the rear of the device is a big securely fastened compartment that houses both batteries and a wire FM aerial. There is no telescopic area with this radio. I was very impressed with the performance of the radio without actually removing the FM aerial at all.
There are five presets for each of the bands - clearly selected from the buttons on the front of the unit.
Sound quality
Excellent. This radio has one of the richest sounds from a mono portable radio that I've heard. I don't remember the last time I had a stereo unit in which FM reception was good enough to actually use stero, so one good mono-speaker probably gives better performance than two smaller stereo speakers.
My one gripe is the maximum volume setting. This does depend on one's own hearing and it may be that as I get older my own hearing is slowly deteriorating (my wife certainly claims I don't hear a word she says...), however I find the maximum setting to be too low. Not too low for a quiet environment - setting the volume at 2/3 maximum is fine then, but outdoors, or in a kitchen or a bathroom or anywhere where there is an ambient background noise, it needs to be louder.
Added extras...
For those lazy days lounging by the pool the radio has a 'nap timer'. Actually it can store up to 5 programmable periods and so you can choose how long it is before the radio wakes you up. Ideal for reminding you when it's time to apply more sun cream (if only!).
OK - personally I think this is a little gimmicky. Apart from being an excellent radio, it also has a fitted torch and 'panic alarm'. The panic alarm is activated by pressing a small button on the end of the radio. For some reason this button isn't particularly clearly identified and is the most difficult to use.
The torch may be useful when camping - which would be another great use for this radio. Light is provided by a single bright LED so minimizing power consumption
The Roberts Poolside 2 radio has a recommended price of around £60. I've not found anyone currently stocking the product - it's very new.

Information from Roberts available at http://www.robertsradio.co.uk/pages/r9958.html