Rugged Bluetooth speakers for your MP3 phone

Published Oct 11, 2007 Author
petew
Review controls
If you have a Bluetooth enabled audio device (MP3 player, mobile phone etc) and want a straightforward set of portable speakers then Parrot may just have what you're looking for in their Parrot Party product
Buy Now
Parrot Party
BlueTooth MP3 Speakers
£74.99 from Amazon

Only £79.95 from John Lewis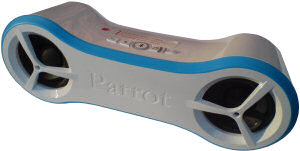 There are a very large number of portable speaker systems available on the market right now, a sector buoyed up by the popularity of MP3 players in general and the Apple iPod in particular.
Many of the available units however are either dedicated to a specific type of player or are limited to a 3.5mm jack/phone auxiliary-in type solution. With convergence of technologies though very many phones come complete with very good MP3 players - so why buy a second product? My Sony Ericsson k800i with 2G byte memory card can hold around a thousand tracks.
The phone does everything you could want of a portable MP3 player when used with a headset. What happens when you want to use speakers? How do you do that? Many handset manufacturers, with a few enlightened exceptions, kit their phones out with proprietary connectors - not a standard headphone jack.
Parrot rather cleverly have made use of the Bluetooth capability of your phone (you knew it'd be useful for something other than a cyberman headset!). Like any other bluetooth device, you pair your phone with the speakers. Once paired you can stream music directly and wirelessly to the Parrot speakers. Simple!
While most useful for Bluetooth enabled, MP3 playing phones, the speakers will work with any Bluetooth enabled device that has A2DP audio-streaming capability. To save you finding out the hard way Parrot maintain a compatibility table on their web-site at :
http://www.parrot.com/usa/support/onlinehelpfiles/parrotparty/compatibility
As well as telling you whether your phone is compatible they also rather helpfully give phone specific instructions.
My k800i is now well over a year old so most recent Bluetooth phones are likely to be supported.
For those of you that do not have a suitable Bluetooth sound source, but think you may get one in future, the Parrot Party also has a standard 3.5mm jack socket for use 'the traditional way'.
The basics
From the picture above you'll see unit comprises two speakers separated by a central area containing controls and power. You're provided with a mains power supply and a 4.8V, 2100mAH NiMh battery pack, which you slide into the compartment underneath. Having a separate battery pack is great when the time comes for them to be replaced. Battery charge time should be around 2 hours, during which time you can use the speakers. A full charge is claimed to give around four hours of play time, which was borne out in my tests.


As well as the speaker unit and power supply you're also provided with :
a convenient protective pouch to save scratches
a Bluetooth dongle for your computer so you can connect to wirelessly computer to Parrot
CD Rom containing drivers and configuration utilities
An interconnect cable with 3.5mm jack sockets on each end to allow you to connect to most non-Bluetooth capable music players and computers
a carry strap
a clear and concise manual
Sound quality from the 2x3W speakers is reasonable I'd say, rather than outstanding. I have some other systems here for review and while the sound of the Parrot Party was good, I found the bass somewhat lacking, even with the bass-boost enabled, resulting in a somewhat tinny sound. Volume was however good, although there was a little distortion at the top of the range. This is however a very portable and robust unit that you'll be able to slip into the bag for that beach party or BBQ.
With Bluetooth
The main differentiator of the Parrot Party is the Bluetooth connectivity, so how well did this work? I had no problem pairing the device with my K800i. Once paired and connected pressing play on the phone automatically started streaming music to the speakers. To my surprise this even worked once the speakers had been switched off and stored for a few days, without battery, and then switched back on.
Walking backwards with the phone connected I got to about 5m before loosing the signal completely, although beyond around 3m there was some drop out, resulting in the odd second gap in sound.
The only other possible Bluetooth device I had to play with was a computer. Once I'd fought with the awful Windows Vista to get Bluetooth enabled it was amazingly easy to get it to work with the Parrot Party speakers.
The advantage of Bluetooth connectivity for the computer is freedom to put the speakers roughly where you want in an average size room rather than being limited to the length of the connecting wire,

Summary
This is just about the only Bluetooth device I've had where Bluetooth was easy. It connected perfectly, kept the signal, streamed music with no complaint. The quality of the speakers wasn't the best I've heard, but were adequate and certainly good for their intended use. With analogue input as well as Bluetooth you'll benefit from not being tied into a specific music player and as you change phone you can be pretty sure your speakers will not need to be replaced.
The Parrot Party speakers are available from John Lewis for £79.95, which seems reasonable when compared to other units and considering the unique Bluetooth capability.
I'm rather impressed to see the US price is $149.99 - and I think Parrot should be congratulated for keeping US/UK prices roughly in line with the exchange rate rather than charging an extortionate mark-up. Something a lot of manufacturers could learn from!
More information is available on the Parrot web-site at the following address :