Tablet Tail and Parrot Flower Power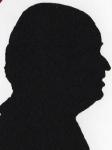 Review controls
The Tablet Tail is also called a Monkey Kit useful to hold your Android or IOS device in a viewable position. Parrot Flower Power is a device to stick in the soil near your plant and it will notify wirelessly when it needs watering or is too hot or cold.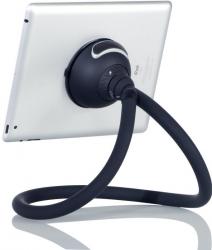 click image to enlarge
Tablet Tail
This is in fact two items in one. First a suction device to fit onto the rear of a Tablet or large Smartphone or IOS device. Second a long bendable tail much like a monkeys that can be used in similar way to grip onto things that otherwise would require more permanent fixings.
First the suction device it is circular at 9cm across and around 4.5deep. It has 5cm rounded strip that you depress to remove the air once attached.
A normal – not child size – hand it fills comfortably to allow you to hold the Tablet at the rear rather than in a stretched hand and allows the other hand to navigate on the device.
The monkey tail is 90cm long and looks about the size of a standard garden hose, it is black and rubberised but while it can be twisted around anything it still remains rigid. This also has a suction cup – a different action – on the end so a mobile phone of small Tablet can be attached; the cap is 3.5cm across.
Whatever shape you adjust the tail to it stays in until you decide to make it some other shape. The object you attach to the suction cap will remain in place until moved by you so in effect you have another hand.
So when no suitable surface to place a Tablet or Smartphone on is available the Monkey Tail can be used.
The larger suction cup and the Monkey Tail both need a flat surface to work so any raised Logo on your device would have to either be under the suction part or outside it and not on the edge of it.
However for larger Tablets and other such devices remove the back of the first suction device and attach the second unit with the Monkey Tail to it and you have the ability to have the Monkey Tail support a larger device.
The Tablet Tail is available from the link below for £59.99 with free delivery.
http://www.amazon.co.uk/gp/product/B00CIQ6H2Y?ie=UTF8&tag=gadge0a-21&linkCode=as2&camp=1634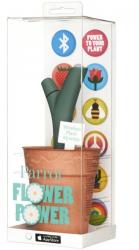 click image to enlarge
Parrot Flower Power
I saw this shown at a Garden Centre last autumn and because of my lack of botanical knowledge have since spoken to two keen gardeners and let them use it for a few weeks each to help my appraisal of this rather unusual object.
It is a probe placed in the soil near the plant you want information about.
It is 19x6x2cm the top – out of soil – part ending in a 'V'. The first 9cm is placed in the soil and this contains the various sensors.
There is a multi language Getting Started Sheet that should get you working successfully.
It can be used indoors or outdoors for plants in pots or in the soil.
For those in pots there needs to be space around the plant as the sensor must not be shaded by the leaves in order to successfully detect temperature.
It works with a Free IOS App and after around 24 hours it will start sending useful readings of course you need to identify the plant you have it working with as the amount of water and ideal temperature will vary greatly.
Both the gardeners who tried it said it had a use but of course they are both experienced and knew their plants likes and dislikes. So perhaps it is best used by the novice gardener, it can store details of several plants and be moved accordingly but remember the 24 hour settlement time.
It works with a single 'AAA' battery which is supplied.
Parrot Flower Power is available from the link below for £49.88 with free delivery.
http://www.amazon.co.uk/gp/product/B00FOM2Y6W?ie=UTF8&tag=gadge0a-21&linkCode=as2&camp=1634