Audyssey Lower East Side Audio Dock Air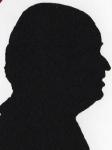 Review controls
A while ago I reviewed another high quality device from Audyssey. Here a Wireless device that can also be attached via 3.5mm cable. However this is mainly Wireless – and I mean Wireless – not Bluetooth and can be used in several ways.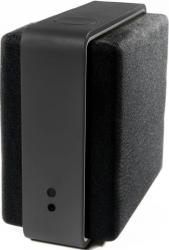 click image to enlarge
It is 21x12x20cm and each side has cloth covering where the speakers sound emerges. At the base of the back is the power input, a 3.5mm Auxiliary input and the 'Pair' button. The top has a large circular volume button and behind this two small LED's. The front has a 3.5mm socket for headphones or earbuds when the speaker may be inappropriate. While not as heavy as the last Audyssey I reviewed it still weights over two and a quarter kilos.
There is a downloadable PDF file –User Guide- which gives slightly more detail but for most users the supplied Getting Started Guide should be enough. However this is useful when finding how to attach other devices.
The setup seemed simple a twenty page multi language Quick Start Guide was not a great problem as the English was listed first on each point. Step 1 plug in the speaker, check. Step 2 set up Airplay wireless audio you need a PC or Mac or an iPod Touch, iPhone or iPad, check. Press and hold the Pair button on the back of the Dock until the Green LED on top flashes rapidly, check. Wait for Green LED to flash slowly, check. Open your Wi-Fi network settings and select the stated network, check. Open your Network Browser and type the http address given. At this point on my first few attempts I got unable to connect to Internet, which at the time seemed logical as their network and my network were different. However on the third attempt I allowed longer for each stage and then got the wanted http screen and I was able to link this to my own network and all worked fine, check. The rest of the setup went as detailed in the Quick Start Guide without problem.
I used an iPod Touch and once the setup was completed I had another icon on the bottom right of my music play bar, press this and you have an option of staying with the iPod as the output or switching to the Lower East Side Audio Dock. I found that the switch took around ten seconds to implement. Switching back the other way took about half that time at around five seconds. If you setup a play list there are no delays between tracks but if you select a single track and then another there is the same ten second of blank between tracks.
If like me you start with an 'i' device then other devices like PC or MAC are simple and just a matter of selecting under preferences in iTunes 'Allow iTunes Control from remote speakers' and your output will just play.
So what speakers are within the Audyssey box two .75inch Tweeters, two 3inch Woofers and two 4inch passive bass Radiators.
While you can attach headphones or earbuds you then lose a lot of the depth of the sound that comes from the speakers elements. You can improve sounds from things like MP3 players by connecting to the auxiliary input.
It's nice to have music where you want it without having to move anything but the Audyssey Dock to where you want to listen and with an extension power cable this can easily be in your garden should the weather be suitable.
Sound is perhaps even more subjective than vision and dependent on your ears and the room you are listening in the sound can appear better or worse than 'x'. Here the quality components can make MP3 files sound much improved. However there is only so much the hardware can improve limited sound files. So if you have better quality sound even 16bit WAV is vastly better than even say 320kbps MP3 files, DAC files need better hardware (much increased price) and therefore spending money on something to get the best from MP3 may well be the best way to get the best possible from your files. The Audyssey Audio Dock Air is quality.
Doing my searches found the Audyssey Lower East Side Audio Dock Air at a best price of £282.77 with free delivery from the first link below. More details of all Audyssey products from the USA second link.
http://www.amazon.co.uk/gp/product/B007VPUROG?ie=UTF8&tag=gadge0a-21&linkCode=as2&camp=1634