Pure Tempus-1S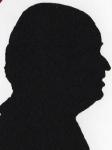 Despite the traditional DAB shape this unit has a few surprises inside. The sound quality is excellent and it is extremely easy to use. In fact all in all it's a very nice DAB radio.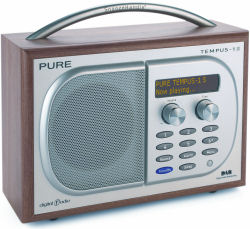 Yes there was an earlier Tempus offering and it's shape and size very like others by Pure but certain features are new. It is 21x12x17cm. These are the maximum sizes the latter the height goes to the top of the snooze handle, the middle figure is from the front of the volume and tuning knobs to the rear of the power lead.
My unit was in a light cherry (looking more like teak to me) wood. The right half of the front has a two line display 6x1.5cm display that holds the first of the secrets of this unit. After around 15 minutes of no button being touched the display changes from the station (DAB or FM) being played plus the information of your choice on the second line to a digital clock display taking both lines, the intensity of the yellow and black display can be adjusted. The only indication of it being more than a straightforward display in the user guide is to say it is a screen saver mode. I first noticed something different when one of the small icons around the clock moved position and after that I noticed that the clock itself moves very slowly from left to right over around 30 minutes, neat and especially when on standby it avoids any possibility of screen burn.
Under the two line display are two largish knobs for volume and tuning. Both simple and a lot easier to adjust than with some other DAB radios. On the tuning side there are 30 pre-sets available (shared between FM and DAB) and these are especially useful on the FM band as movements in 0.05 increments mean getting to a station at the far end of the spectrum can take time. There are six pre-set buttons and these are one click the other twenty four take two clicks.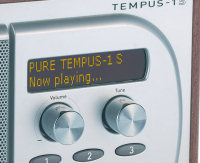 Below these are five other buttons and a light sensor. The five buttons are sleep, standby, menu, alarm and source. The latter is surprise number two as not only does this toggle between DAB and FM but also a choice of six natural sounds such as Forest Rain and my favourite Bird Song, being woken by the latter is very pleasant.
On first switch on first make sure that the seven rod aerial (70cm) is fully extended and then after answering the 'Energy Saving' question then it proceeds to do an autotune. This is quick and in my case it found fifty three stations.
The rear of the unit has a total of six connectors, USB (for upgrades) Aux In, 3.5mm headphone, stereo out, Aux out and the DC input.
You can set a total of four alarms these can be, daily, weekday, weekend, Saturday, Sunday and once only. Each can be set with DAB, FM, Natural Sound or Tone and for those heavy sleepers the volume level can be set at a totally different level for each alarm. Mind you a high level bird sound or forest rain could be very alarming and not at all restful and a kind awakening. You can also set the snooze interval between 5 and 59 minutes. Pressing the snooze handle can also be used to show the clock display at a brighter display for three seconds, useful if you set the clock display to dim.
The sleep timer can also be set to a period of your choice between 15 and 90 minutes. I glossed over the energy saving feature earlier as I have mentioned it on another review but not everyone may realise that the energy consumption in standby can be reduced to less than one watt by setting this and all you lose is the collection of intellitext while the unit is in standby.
I liked this unit it was easy to read, easy to use and easy to adjust. Well worth it's high rating and only just short of a 5x5 award simply on price. I found it at a best price of £86.22 from the first link below, including shipping. However it's still very new and the price could drop.
http://www.amazon.co.uk/gp/product/B000VKGGXE
http://www.pure.com/Products/Product.asp?Product=VL-60893