Panasonic HM-TA1 Pocket Camcorder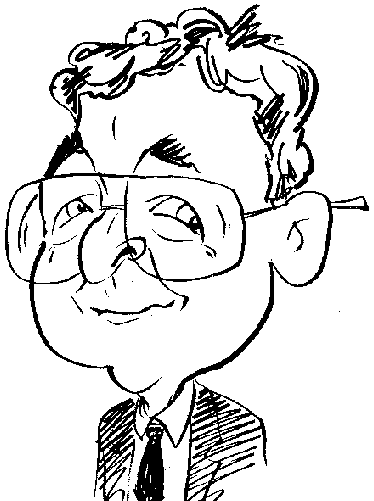 Review controls
A pre-Christmas evening of magical card manipulation introduced me to a new camera from the Panasonic range. This was a pocket camcorder device.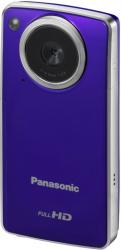 click image to enlarge
Cisco has its Flip, whether of the Ultra or Mino variety; Kodak offers users a choice of its PlaySport or PlayTouch models; and Sony is pinning its faith in the Bloggie. With this in mind you might expect Panasonic to come up with something equally memorable as a title to bestow on its initial offering for those looking to purchase a pocket camcorder. In its wisdom Panasonic has decided that HM-TA1 will really grab public attention. Or maybe Panasonic feels that this pocket camcorder's capabilities do not need a catchy title in order for it to succeed.
The HM-TA1 certainly catches the eye with its compact size and clean cut appearance. With dimensions of 53 x 104 x 18mm, the HM-TA1 can easily be slipped into a pocket or bag without causing an unsightly bulge. Its weight of 115g is hardly going to over-burden you and puts the device in the same category as some mobile phones.
Of course you might prefer to have this camcorder nearer to hand by using the supplied wrist strap which is how I started using this product. Unfortunately you will need a degree of manual flexibility that I possess to reach all the various rear mounted controls when the device is attached to a wrist. Slipping the strap off the wrist does help but you do need to ensure that the dangling strap does not intrude within the vicinity of the lens and becomes part of the current scene. I finished up removing the strap completely.
Featuring the Panasonic name and an indication that it is a FullHD device, the HM-TA1 charcoal grey front face has a removable sticker proclaiming the unit's support for USB connectivity plus YouTube, Facebook and Skype compatibility. Immediately above this sticker are a pinhole microphone, F2.8 lens and LED (more on this particular item a little later). The rear of this camcorder divides its space between a 2-inch LCD capable of displaying 153K dots and a control panel. This panel has buttons to record, playback, capture still images, delete items, turn on the LED light, and a navigation pad with a centrally positioned menu/selection option.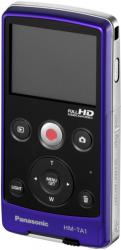 click image to enlarge
Running around the sides of the HM-TA1 is a silver metal bar. This houses access to various compartments and the on/off button. Keeping the on/off button company on the left side of the unit is an easily accessible compartment for holding the rechargeable Lithium-ion battery pack which should give 110 minutes of recording time plus an SD memory card (not supplied). As the HM-TA1 offers the user no memory of its own for storing recording content, the insertion of a memory card is vital. All formats of SD cards, including the most recent SDXC, are supported so that you can go up to a maximum of 64GB.
Two smaller compartments are located on the right side of the unit. The top compartment house a mini-USB slot for connecting the supplied AV cable. The second compartment, located at the bottom of the unit, contains the standard USB connector which is extended using a slider switch which needs to be depressed before use in either direction. Replacing the cover on the compartment proved to be more fiddly than the other two compartments. I much prefer the Flip method of extending the USB connection.
Capturing content is straightforward with the red record button being used to start / stop video recording and a separate button for still images. Reasonably smooth zooming up to x4 is available. Displayed on the screen will be the amount of storage space available based on the current settings. When working in poor lighting conditions you have the option of switching on the previously mentioned LED light to improve illumination when capturing content.
You can use the 2-inch LCD screen for immediate feedback regarding captured content but for a more enjoyable viewing experience you need to link the HM-TA1 to a computer or television. This camcorder is compatible with both Windows and Mac systems. Software, in the form of HD Writer PE 1.0, is provided for windows users. Requiring Microsoft Visual C++ and SQL Server software to be present, HD Writer PE 1.0 is not the fastest when it comes to installation.
Following a system restart you can use this software to transfer content between the camcorder and computer in either direction. You can edit clips using tools to delete sections plus apply transitional effects and add a title. Other options include extracting a still image from a video clip, playing back content and sharing with others online.
The unit's single microphone does a competent job of capturing audio content with playback having a more rounded sound when delivered by a television or computer. Image quality is of a reasonable standard although the colours tended to be a little washed out for my taste. Overall the HM-TA1 is worth considering despite some minor niggles such as the poor positioning of the wrist strap and fiddly USB connector cover. By shopping around you should be able to purchase this device for around £80. If you purchase this camcorder before 31st May, 2011 you are entitled to a free designer skin or one based on an image you upload. Windows users will need to be running Windows XP and later with a Pentium 4 2.8GHz processor. Mac users will need an Intel Core Duo or Intel Core 2 Duo running Mac OS X 10.5 and later.