GoXtreme Vision 4K camera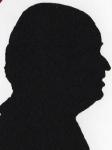 A small camera that comes with a large number of fittings so however you use it you should be able to get great videos and images up to 4K. My use of it was far more mundane but I was still amazed at the video and sound quality it produced.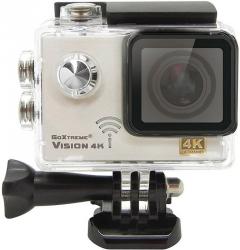 click image to enlarge
The GoXtreme Vision 4K action camera measures 5.5x4x2.5cm without any fitting or extreme use case.
As always with new devices I do what most people do and see what I can manage to work out without recourse to the manual.
I found a Micro SD Card and inserted it, pressed the on/off button and took a short video, extracted the card and inserted it in the card reader it in my PC and watched the video without problem.
Regular readers will know that extreme sports and me do not mix and that a twenty yard trot to the bus leaves me gasping however I can put any 'action cam' through its paces on a walk and did so with this and was amazed how steady the images were even when hand held.
Among the supplied accessories I attached were the waterproof case, helmet mou8nt, bike mount, clip mount, shield, orientation arms, tripod adapter and one I actually used the monopod adapter when I filmed a gig – with permission – at a pub.
Also supplied are the internal battery, a USB cable to charge it, some sticky pads, a screen wipe cloth for those extreme tests and a chunky quick guide. The first fourteen pages of this are in English.
There are only two buttons one on top and one on the face. On the side there are up and down buttons, however everything has more than one function so to get the best from your unit on foot, on bike, on skis or any other device RTFM to get the most from this rather nice extreme camera which not only takes video but also still images.
For instance the up and down buttons also zoom in or out.
Unlike other extreme video cameras this also has a display which will only blank after 30 seconds of recording to save battery but it is not intended to be viewed while skiing down a mountain but to setup the unit before you start capturing video.
It has no less than seven different video modes. 4K (3840x2160) @24FPS. 2.5K (2560x1440) @30FPS. 1080P (1920x1080) @ either 60 or 30FPS. 720P (1280x720) @120, 60 or 30FPS. WVGA (800x480) @30FPS. VGA (640x480) @ either 240 or 30FPS and QVGA (320x240) @30FPS. These are all MP4 using H 264 compression.
The Sensor is from Sony at 12MP.
The unit also takes rather good wide angle photos as the lens gives 170 degree view these images do have a slight fish eye effect on either video or still photo if there are things like a door in the view.
Still images can be captured in 16MP, 14MP, 12MP, 10MP, 8MP, 5MP, 3MP or VGA the first two mentioned sizes are by interpolation.
While the stated Micro SD card sizes are said to accept up to 64GB my 64GB card was not accepted although it met the Class 6 or above requirement, smaller sized cards all worked correctly.
Still images can be captured single shot or continuous or via the supplied self-timer at 2, 5 or 10 second delay.
The supplied battery 1050mAh which is stated to give around 70 minutes recording at 1080P with 3 hours recharge time and joy of joys the red light does go out when the battery is recharged.
The GoXtreme Vision 4K is available from Amazon for £109.