Canon Legria mini X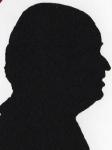 Most cameras that I review are still units that have the ability to take movies. This is almost the reverse being a unit most likely to be used to take video but it can also take still shots however this is fixed to one of two fixed distance focuses.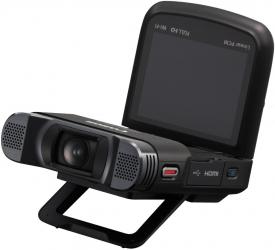 click image to enlarge
The Canon Legria mini XI measures 10.5x7.5x3cm and weighs 240grams.
The front of the unit has the lens with twin microphones either side of it. When off the lens is covered. The back has a single LED labelled Access and a flip door behind which sits the solid battery and any SD card you use. There is flip stand that pulls out and is strong enough to stay where you put it so the unit could be placed on a shelf or table pointing at the object to be videoed.
The base has a standard tripod screw and as the lens is fixed this can be very useful. The left side has a record button a door behind which are USB and HDMI out and then a replay button. The right side has a microphone level wheel, DC input, 3.5mm headphone output and then external microphone input and finally an on/off slider.
This leaves the face that has a 5.5x4.2cm TFT touch display that can either lay flat or move to vertical via a hinge. This hinge has two anchor points so when vertical it can be turned through 90 degrees to again be flat with the unit and then another 90degrees to facilitate taking selfies. Sadly the one position it cannot achieve is to flip on itself so the screen can be protected when in a pocket, bag or purse, no cover is provided.
Earlier this year I reviewed an earlier version called the Legria Mini that in dimension terms was a little smaller.
A selling point for Canon is the audio that they claim to be CD quality over a wide dynamic range.
The lens is very wide angle able to capture up to 170degrees of action, which means you may have to rethink how you capture what as that sort of field can often be more than you want.
170degrees is just about everything in front of you and so you would need to have a very clear view for this to be useful. The touch screen allows you to have some control over the angles.
At this point when reviewing a still camera I normally mention that it can take video and while I would not term this as a straightforward camcorder now I mention the two still modes. First the resolution they are captured in is 12MP. Now in the standard view something like a 23inch panel would fill the view from around 60cm away, press the point on the screen and this item takes less than 20% of the screen, again something that needs thought to make it work for you the view also becomes rather to fish eye like.
So would you buy this instead of a camera, no. Would you buy it instead of a camcorder probably not. It does have good sound but I think you have to have an idea of what you want to shoot to use this unit to get the best from it.
The Canon Legria mini X is available from the first link below for £319 with free delivery.
http://www.amazon.co.uk/gp/product/B00HVDBQXE?ie=UTF8&tag=gadge0a-21&linkCode=as2&camp=1634
http://www.canon.co.uk/For_Home/Product_Finder/Camcorders/Digital_Creative_Camcorder/Legria_Mini_x