Canon Legria HF R28 HDMI Camcorder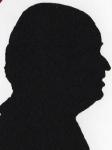 Review controls
This tiny handheld unit has probably got more capture power ability than a full size tripod mounted film unit of not that many years ago, so for not that much money you can capture HD movies and sound without any real effort.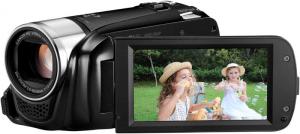 click image to enlarge
Its been a while since I have looked at a Camcorder – as opposed to a 'Flip' type unit or the ability of a digital camera – and even though externally it looks similar the guts and how it captures and deals with video has changed.
It is 11.5x6x6cm when closed and it weights 305grams. The viewing and capture screen opens on the left side and this can add up to another 9cm to the 6cm width. The screen can rotate up to 270 degrees, 180 degrees away and 90 degrees towards.
All capture is done onto SD card and while I used a recent Class 10 one from Verbatim lesser speed ones should work fine. In fact this is the first camcorder that has a spare SD card slot as HD video uses a lot of space and two 16GB cards cost less than a single 32GB offering. The access point is revealed when the screen is open.
While there are various buttons exposed in the screen open state almost all replay selections are made using the touch screen.
A camcorder is still a right handed person's province as the hand strap is on the right side. On the back is the record start and stop button. On top at the rear is the shutter release to allow you to capture still images and in front of this is the rocker button that goes from wide angle to 28x optical zoom and together with on/off on the left side shoulder are all in reach of your right hands thumb.
On the rear of the right side is a large rubber bung covering DC in, component out and AV out sockets. The base has a door covering the solid battery and beyond this a tripod anchor point very useful when large zoom is used.
The front has the lens and one thing that pleases me is that it is automatically covered when power is turned off. I have always thought that the most likely part to be damaged in a bag or pocket to be exposed if you forget to click a control. Of course the other item in danger is the TFT but as this sticks out you tend to close it.
Open the TFT to reveal four well marked buttons and mini USB and HDMI sockets to complete the external controls.
As regular readers will know I tend to take a good amount of video at local gigs normally using a 'Flip' type device, while I had this camcorder I used this together with a tripod and a monopod to get a lot of very acceptable video. The monopod is very useful where space is restricted and the difference between handheld and monopod capture is easy to see when reasonable zoom is involved.
Usually the only cables supplied are power and USB but here you also get mini HDMI to HDMI so captured clips can be viewed immediately on a TV full screen so the PC is not involved until you want to make movies.
I liked this unit that takes acceptable still images and rather nice video with very smooth zooming providing you have the unit on a tripod or monopod. Smooth zooming is something that a normal digital camera cannot do.
For full specifications try the second link below.
The Canon Legria HF R28 is available from the link below for £285 with free delivery.
http://www.amazon.co.uk/gp/product/B004INGLQM?ie=UTF8&tag=gadge0a-21&linkCode=as2&camp=1634
http://www.canon.co.uk/For_Home/Product_Finder/Camcorders/High_Definition_HD/LEGRIA_HF_R28/