Intempo TRS-01 DAB/FM digital radio

Published Nov 2, 2007 Author
petew
Review controls
For those that like DAB radio and looking for something more comparable in size to a classic portable analogue FM radio may like to take a look at this product from Intempo.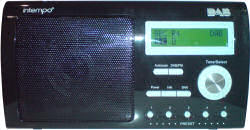 The Intempo TRS-01 is available in five colours : black, violet, claret, grey and blue - in a compact 205x38x105 mm (WxDxH) package weighing only 40g (excluding batteries). The unit is delivered with a mains 6V 800mA rats-lead power supply and can also be powered by battery.
All the controls except volume are provided on the front surface - which also includes an illuminated LCD display. Reception is via a 60cm, six element telescopic aerial. Quality of reception was adequate, but not quite up to the level of other products I've tested. If you live in a weak signal area this may not be the best product for you. FM reception was however good - as was FM auto-tune.
Tuning is via a rotary control or via auto-scan for FM. There are 20 pre-sets - ten for DAB and 10 for FM. The only other controls provide for station tuning and 'information' for DAB stations.
On the left-hand end panel you'll find the input for the DC power supply and a standard headphone socket.
Volume is controlled in 10 incremental steps. Sound is produced from a single 2.5" speaker. The sound is somewhat tinny, don't expect a huge amount of base, which is possibly to be expected with a single speaker of this size, however speaker technology has improved a lot over recent times and better quality is possible. The maximum volume was however very good considering the size - certainly good enough to be heard over background noise in a busy kitchen or in the bathroom over the sound of the shower!

Batteries are inserted into a compartment at the rear of the radio. Space is limited and squeezing four AA batteries into this small radio obviously wasn't easy. This does mean that it's not quite as straightforward to get them in (or out again) as I would have liked.
Those familiar with DAB radio will know that power consumption can be an issue when running from battery. Not many therefore make use of AA cells - so I was interested to see whether the resulting lifetime was up to the claimed 10 hours. For testing I used a set of 2700mAh NiMh batteries - the highest capacity I've found available. The claimed lifetime of 10 hours is from a standard set of alkaline cells. Using the radio at a mid-volume, tuned to BBC Radio 4 and on the NiMh cells I managed around 8 hours. Not bad - the important thing is that's generally a good days listening, which is ideally what you'd want.

In summary - this is a good quality basic portable DAB radio - entirely analogous to a traditional, small portable FM radio. It's great for carrying around the house or into the garden/workshop, and with a few spare sets of charged NiMh batteries will provide will provide excellent service.
The price for the Intempo TRS-01 seems to vary somewhat. The official price is £39.99, and indeed for the most part this is the price on Amazon. The 'gloss-grey' version is however retailing for only £29.99. At around £40 this is good value for those that want an entry into DAB radio, or just want a second radio for carrying round the house.
Click here to information from Intempo's own site.