Altec Lansing Octiv 650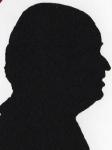 Review controls
Wow seems a good starting point, I unpacked it and plugged it in found my iPod and switched on, as I have said once WOW, my iPod has never sounded better of course I also tested the speaker unit with other music sources.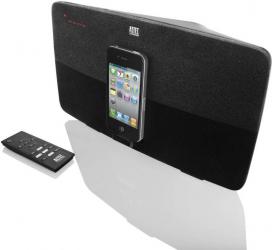 The Altec Lansing Octiv 650 is 31x20x18cm with power adapter lead inserted in the rear, when in use you see a single blue LED showing through at the top left of the black fabric covering the pair of front facing speakers. Up to four other blue LED's show when making adjustments using the control buttons on top of the unit.
The sound is not just the two speakers but a rather nice bottom mounted sub woofer and you can experiment with this by what surface you place the unit onto. For instance a empty cardboard box is a totally different sound to a desk, the floor again varies greatly if it is carpeted or just wooden, so your sound range is so user selectable.
The line of six small touch buttons on the top left edge are on/off, -, +, bass, treble and video, more about the last in a while.
So once you have connected your iPod or iPhone you can adjust the sound of the bass or treble and of course the volume.
The rear of the unit has a line of five connectors, DC input, Blue, Green and Red Composite output, the Blue is also CVBS out and finally Auxiliary in.
So as most will now have worked out this unit can natively play videos on your iPhone screen when docked but also output them to a TV or monitor but one work of warning no cable to do this is supplied in the units box.
I also connected my MP3 player and again Wow seems to be the best word. So now I improved my TV sound and of course a PC can benefit in the same way as to an even greater extent can the majority of notebooks.
There is a remote control, normally with small speaker sets I see no reason but the quality and depth of the sounds make it a viable way to adjust sound as you could be metres away from the unit, there are twenty well marked buttons and the 10.3x4.5x1cm unit is controlled by a circular clock type battery that is supplied with it.
While there is no problem in setting up the device there is a 32 page multi language 'Safety Instruction and Warranty booklet as well as a leaflet giving the ability to download 35 MP3 tracks from emusic, but no user guide.
The only instructions are on the inside of the lid with six diagrams, if you need more information you need to download it from www.alteclansing/infoenglish or French, Spanish or Portuguese should you so wish to do so.
However when they can provide a 32 page booklet telling you not to get it wet etc surely a couple of pages of instructions for setting up especially for those needing cables for their iPhone to view output using a television.
A lovely compact speaker set with a huge amount of bass, treble and volume will make any connectable device sound far better if it was available under £100 that would be even better but the best price I could find it is £81.12 including delivery from Amazon on the first link below.
http://www.amazon.co.uk/gp/product/B004TS2AP2?ie=UTF8&tag=gadge0a-21&linkCode=as2&camp=1634
http://www.alteclansing.com/ae/us/home-speakers/octiv-650-m650/invt/m650/ This link is from the US site as at the time of writing the UK site does nor show it, there are even short videos to show some of the features of it.