Yamaha PDX-11 Player Dock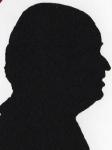 Review controls
This is a single powerful speaker sold by a company who make musical instruments and amplifiers to professional standards. So while you could say this is just an 'iPod Dock' you know to expect that it could give more.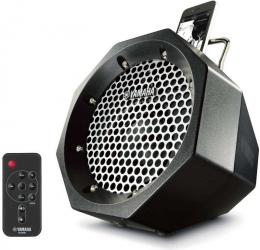 click image to enlarge
Certainly this is not designed to blend in with the lounge furniture with its black colour unusual shape and heavy chrome handle and fittings all set off with the large holed metal grill all of course give it the effect desired.
It is 20cm across around 30cm tall with iPod in place and around 25cm deep with cables protruding from the rear.
While I have heard and enjoyed a lot of Yamaha keyboards, their small amplifiers that can be powered by 'AA' batteries have yet to become available for me to test. The software can give Guitars a new edge and as for their electronic drum kits… Of course none of those in themselves answer why produce an iPod dock apart from perhaps 'because we can' a phrase that some other company first used to promote their range of wares.
When I looked at the Yamaha site I see they do a number of speakers mainly aimed at musicians and the higher end of the market. On listening to the sound output from this mains or battery unit you hear things that your iPod - even when using decent headphones – never before offered from the recordings on it. Base has depth without becoming overpowering and the experience more of exactly that an experience worth following.
It comes with a remote control to allow you to use it while still in your chair as this is a sound you want to encompass you.
While returning from the event on the short walk to the tube station carrying the PDX-11 in its box I was stopped twice by people wanting to know where they could buy it, these were obviously people who knew what it was.
The 'i' device fits in front of the carrying handle and in front of that are three buttons back, on/off and forward. There are also two small LED's green and red. The back and forward buttons are also volume up and down.
The overall shape is eight sided diminishing towards the rear that has the DC input and Auxiliary output. There is a door behind which you can fit 6x'AA' batteries and yes these can be the rechargeable sort if you wish.
There are four rubber feet and these as well as the shape point the speaker slightly upwards so it sounds great on the floor.
There are two speakers behind the grill a four inch woofer and a separate tweeter for the higher frequencies. The small remote has nine buttons and uses a supplied clock type battery to power it, this can also control your 'i' device.
I see it is available in four colours and this relates to the octagonal sides behind the black front cover, mine was dark blue but it also available in a lime green, white and black. All of course unlikely to avoid the wroth of the 'lounge police'.
Not a professional instrument but something that the home user might use while they fantasize of the like they might have had. The sound quality is however good as you would expect from a company whose business is music.
Doing my searches found the Yamaha PDX-11 at a best price of £79.52 with free delivery.
http://www.amazon.co.uk/gp/product/B006TOV94C?ie=UTF8&tag=gadge0a-21&linkCode=as2&camp=1634
http://uk.yamaha.com/en/products/audio-visual/desktop-audio/pdx-11_w/?mode=model