iLuv Dual Alarm Clock with Shaker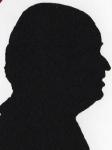 Review controls
Even after the clocks went back most people are having to rise for work in darkness and while most will still be reluctant to get up in daylight you often need another pressure – other than your bladder – to get you from your bed.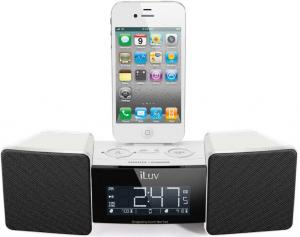 click image to enlarge
For those with limited space this small unit may be ideal. It is 23cm wide at the face and 17.5cm at the rear, a maximum of 7cm tall at the face and 4cm at the back these figures are without your 'i' device inserted in the dock. Overall it is 8cm deep with leads inserted inset in the rear. The hard wired wire radio aerial is 1.4 metres long.
Without your 'i' device it is an alarm clock radio controlled by two ubiquitous joystick controls on the units top.
As this is only an FM Radio you would normally have to manually set the clock on first turn on but if you insert your 'i' device before you turn on the power it can by the touch of a button take the time from that device.
If you do not have an 'i' device you can you other music devices via the Auxiliary socket on the rear of the unit.
So why the opening paragraph about reluctance to rise well if you are a heavy sleeper a normal alarm clock will probably not do the trick so this not only has a choice of alarms but a shaker unit that joins you in bed and most will be woken by this method. The Vibro II buzzer is quite vigorous and While it is only 5x5x1.7cm it is hard to ignore. It has a 1.8 metre lead so should be long enough for most.
Another plus for this unit is that you have two speakers so stereo from your 'i' device without needing your earbuds.
The speakers have a 4watt output but if they are by your bed that is plenty to give a good sound. There is a small 16 page Quick Start Guide to explain most things in images so even if you do not speak English it should be clear. The one thing not covered is how to set any of the ten presets that are available and this takes some working out by guesswork, presets are important as without them if power is removed when you return power it defaults to the start of the waveband full of static.
There are two alarms available and you can choose to be woken by buzzer (starts very quiet but builds to a peak), radio, shaker or 'i' device. If you picked your 'i' device and it is not docked it will default to the buzzer.
Most people I know tend to want just a little longer so hit the snooze button on at least the first alarm sound it will go off again after nine minutes until you stretch just that little further (around 3cm more) to find the OK button.
The unit also has a sleep timer with settings available from 15minutes upwards available. While in daylight the intensity of the time display is not vital at night it can be far to bright so the ten levels of brightness should help.
The display is made up of white dots on a black background, 13 from top to bottom and up to 9 from side to side for each numeral. To the left is your mode FM, iPod or Aux, below this an icon line displaying the alarm times set and the wake up method.
When your 'i' device is in the dock even with the Vibro II in standby it will be charged so can in late and plug it into the Vibro II and it should be fully charged when you get up in the morning.
The iLuv Vibro II is available from the link below for £39 with free delivery from the first link below.
http://www.amazon.co.uk/gp/product/B006ZRU3IG?ie=UTF8&tag=gadge0a-21&linkCode=as2&camp=1634