Gear4 HouseParty Portable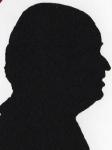 Review controls
Here a dock that can ramp up the volume even without mains power, in fact it can work even if the 'i' device is not even docked in the unit. Yes in this form it is Bluetooth enabled even though it mentions Wireless, so connected or not.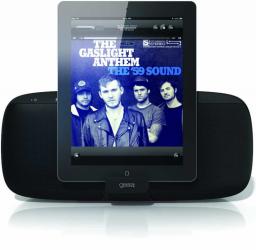 click image to enlarge
The HouseParty Portable is 34x14x7cm and weights 1221grams with your 'i' device which can if required be docked.
While most iPods can be docked using the standard connector later iPod Touch and the Phone and iPad can all also connect Wirelessly. Let me state here that 'Wirelessly' means without visible connection as it uses Bluetooth.
When you first unpack the unit you will need to charge the internal solid battery and to get maximum performance this needs to be for 24hours according to the manual but during that time it can still be used in docked or 'Wireless' mode. As it also has an auxiliary input any device with a 3.5mm output can also be connected.
So why have a 'Wireless' connection it means that your 'i' device does not need to be docked and apart from the fact that you have control over the music played you still have your 'i' device even in another room. I used it with the 'i' device four rooms away through solid walls and the music just keeps on as long as your play list.
The top of the unit has four buttons, on/off volume up/down and Bluetooth. At the front left are two LEDs on blue and off red for the left one and flashing blue pairing and solid blue paired for the red button. The whole of the front is covered in a fine wire mesh to protect the stereo speakers. In front centre towards the base is the dock.
The sides and base are clear with the area at the centre bottom of the back having a simple put stand 3cm protrusion 13.5cm long and also within this area are the connections, DC input, USB (alternate charging outlet), micro USB for firmware updates and auxiliary input to allow you to use any MP3 player or other device.
There is a small manual with the first eight pages in English this explains the controls and a few other salient points.
When you first connect your iPod Touch, iPad or iPhone the phone will say you need to download a Free app and it asks for permission. This is very quick and afterwards you can have a way to control the volume and tracks remotely. It also has a couple of different interfaces and also allows various Equalizer choices to be made.
The USB socket on the rear is only available as a source to charge other devices that have a USB charge option the power output is 1.5amps so it could give to big a charge for certain items so check before using it for this.
In use I managed to use it in 'Wireless' Bluetooth mode for 15 hours on a single charge. After fully charging the unit again –subsequent charges should take only four hours - I ran the same test using the 'i' device tethered where of course power is also used to power the 'i' device, this was over two days and the battery lasted for 14½hours. While I did connect a standard MP3 player I did not do any timing on battery life between charges. My iPod touch works for around 12 hours when Bluetooth is activated.
Sound quality was good an ideal for a party, it would have been nice to use Bluetooth from other devices but this does not seem possible as it only links using Bluetooth after downloading the 'i' app, why not link to Android devices?
The HouseParty Portable is available from the link below for £129.99 with free delivery.
http://www.amazon.co.uk/gp/product/B005ONYH0W?ie=UTF8&tag=gadge0a-21&linkCode=as2&camp=1634
http://www.gear4.com/product/_/443/houseparty-portable/?cid=37