Nook Book Reader and MORE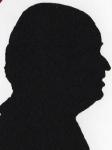 Review controls
This is a rather nice book reader however it can be far more as it is Android based, so you can surf the WWW and collect your emails however for some reason not quite all the content of the Android Play Store is currently available.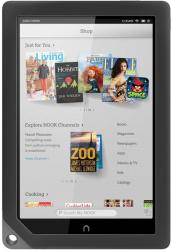 click image to enlarge
The Nook HD+ book reader and general Android tablet measures 24x16x1cm and weighs 500grams. The visible screen is 12.7x19.2cm which gives the notional diagonal imperial measurement of 9inches.
As a book reader it is backlit so the battery will not last as long as an e-ink offering. The default font size will show 33 lines of text when in portrait mode; in landscape it will show 20 lines in two columns of just over 7cm (3inches). Even for my old eyes it was very readable even from a distance of 42cm when sitting on my desk.
The unit is of course totally touch apart from the one button on the top that brings up the volume control and beside this is a 3.5mm jack so you can enjoy music without annoying others. The top right corner has the on/off button. The base has a proprietary connector to charge the unit and beside this under a cover a micro SD card.
At the back near the right edge of the unit is a small speaker and the left corner has a small 1cm hole to allow it to be hung up.
This is designed to be used by a family and each user has a picture so they can logon and of course it remembers which books and magazines are relevant to each. It should also stop children viewing unsuitable material on the web and will not allow access to all sites.
It is almost a full Android system although certain Apps I normally use were not always available, one example is London Bus Tracker which is free to download and use, a paid option was however available.
As with all Android devices you really need a Google or Gmail account to purchase or get the best from it, if you do not have one it is easy to get one but of course to use things like maps accurately you need to allow it to track you.
It works using a Wi-Fi connection which for most is easy in the home to keep in touch with the world. One thing I noticed is that you get free Wi-Fi 'in all Barnes and Noble stores', I have not found any yet to try this out, but a lot of cafes and other buildings do offer free Wi-Fi as a carrot to get you in.
The unit I tried came with a 32GB micro SD card and this was loaded with a range of books and magazines. It is especially good for reading glossy magazines as the unit supports full HD 1920x1080.
The HD+ unit has a 1.5GHz processor with 1GB of RAM and 16GB of memory. I managed to get nearly ten hours of reading between charges it will be around 25% less if watching video.
Like with other brands of book reader you can purchase books and you can also get Apps to allow you to read these books on other 'i' or Android devices.
This was a nice easy to read unit in all lighting conditions even in strong sunlight, I am less sure how a single device works with several users and booting from off was slow at 63seconds, you can change users without shutting down, actual shutdown was 5seconds.
There were a few annoying little touches like telling me the Nook version of Twitter was already loaded am I sure I wanted to load the Android version but that was probably due to an earlier user fiddling about with a setting somewhere.
The Nook HD+ is available from the link below for £164.10 including delivery.
http://www.amazon.co.uk/gp/product/1400699819?ie=UTF8&tag=gadge0a-21&linkCode=as2&camp=1634
The offer below of £129 with free delivery was due to close before publication but another may be now available from the link below