XTZ Earphone-12

Review controls
From Roxette to the Rednex, can the Earphone-12 put the X-factor into your audio XTZ?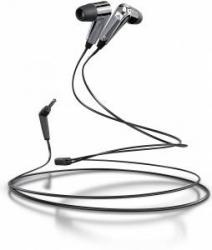 click image to enlarge
With the resurging popularity of headphones amongst the young folks, many retailers have started to offer in-store demonstrations. However, due to hygienic reasons you can't usually try out the in-ear variety before committing your money, money, money. Heeding the call is Swedish high end hi-fi manufacturer, XTZ. Their first set of in-ear earphones the EarPhone-12, are available to purchase directly from their website on a trial basis.
The EarPhone-12 has been developed for particular use with the Dirac Digital Signal Processing app, a free download for iOS devices. This provides sound equalization which has been customised for compatible earphones. Dirac DSP hasn't been used during my testing, but with increased competition biting into Apple's share this won't be an issue for owners of rival products. Dirac are working on an Android version, though with so many model variations available no release date is imminent. Some audiophiles (one of XTZ's target markets), may prefer to listen without any equalisation of their music anyway.
The EarPhone-12 package consists of the earphones on a 1.2m Y-shaped cable, both a 3.5" to 6.3" adaptor plug and an in-flight adaptor plug plus three different sized pairs of rubber buds. It's vital to use the correct sized buds to secure them in your ears and to greatly improve bass response. The difference is like being an ace of bass compared to a basshunter seeking out missing low frequencies. Strangely for a product aimed at iPhone users, there are no controls or microphone built in to the cable, nor the option for any. No carrying case or pouch is included either, which is rather mean at this price level.
The chrome finished ear plugs are larger and heavier than some rival products. By comparison the Earphone-12's largest rubber bud is almost at big as the combined ear plug and bud of the Sennheiser CX300-II. One useful feature though is that the ear plugs are magnetised and will stick to together allowing you to wear them around your neck when removed. Also, the cable is flat to help prevent tangling and this seems to work well.
The Earphone-12 tries not to accenuate any particular frequency. Against some of it's rivals' in your face brightness or bloated bass, this might make it feel dull in comparison. The advantage is that music and vocals don't sound harsh but simply smoother and more natural. It's like top-tapping along at the back of the concert rather than having your ears and body thrashed in the mosh pit at the front. Instead of just hearing sound, you can actually identify and follow individual instruments. I also began to noticed subtleties and details I'd previously never noticed on some of my favourite tracks. Outside noise isolation is good and none of these qualities are lost, even at low volumes and in noisy environments. They will play loud without distortion, but you simply don't need them to. Suddenly music is not just being used to block out the outside World, but it becomes the soundtrack of our lives.
If you regard tonal accuracy more important than aural fireworks, then listen to your heart and head to XTZ's website, because the EarPhone-12 might be worth the look.
These were found for $70 on this link. http://shop.xtz.se/earphones/earphone-12