Tefal Multicook from Jamie Oliver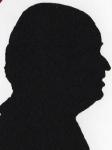 Unlike the unit recently reviewed from Tefal this does not require a stove just a 13amp socket to plug it into. These items used to be called pressure cookers as they cook quickly, now the name is a Multi Cooker as it is versatile.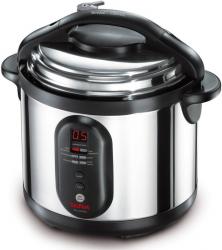 click image to enlarge
The Tefal Multi Cooker is circular 29cm across where there are no handles and 34cm across where the handles protrude and close to 30cm tall.
Plug the supplied mains lead into the rear of the unit read the instructions are you are ready to prepare a one pot meal.
As with anything bearing the Jamie Oliver name there is a receipt book here it is a full colour 160 page offering.
There is an instruction booklet with the first eleven pages in English. Unfortunately page one shows a diagram on how the bits all go together – after washing – and page two has twenty four small figures described through the next nine pages. This is done so the other eight languages can refer but I think it makes it harder to follow whatever language you are reading as you have to keep flipping over pages to check things out.
There is a slightly better 'How to get Started' sheet where each language has a separate laminated sheet so throw eight away and keep your own language. The rear of this shows the Control Panel on the front of the unit.
The Control Panel shows you the range of what this unit can do as this is far more than just a pressure cooker.
At the top of the Control Panel area is an LCD window with a countdown timer and below this two columns of two LEDs showing which mode you are working in. These are High Pressure, Browning, Simmer, Low Pressure, Saute and Keep Warm.
Below these are three buttons, Menu, Time and Start Cancel. The lid is removed by a simple twist motion which is revered to seal the unit. While it works well I would advise reading the less than perfect instruction book to be safe.
I used this via Browning and High Pressure to cook a chicken is half an hour and very tasty it was as the juices are retained.
The Multicook recipe book has recipes designed for use with the Multicook as you would expect. The areas covered are Soups, Shellfish, Meat, Vegetables and Desserts perhaps most import is the Hints and Tips area that gives cooking times but sadly only for vegetables either for steaming or immersion using the low pressure setting.
While I have no doubt this has a place it also takes up space and not surprisingly is quite heavy to move around. For myself I was happier using the smaller and lighter stovetop Tefal unit reviewed on the 18th October 2010.
Of course if you have a small flat or bedsit then you may not have a stove so then the Multicook has a place as indeed it would with a large family where there never seems to be enough rings on the cooker for everything.
Doing my Internet searches found the Tefal Jamie Oliver Multicook at a best price of £94.39 from the first link below.
http://www.amazon.co.uk/gp/product/B003FSSWJK?ie=UTF8&tag=gadge0a-21&linkCode=as2&camp=1634
http://www.tefal.co.uk/All+Products/Cooking+Appliances/Jamie+Oliver/Products/Multi+Cooker/Multi+Cooker.htm