Yamaha Audio System MCR-042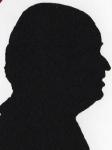 Nowdays there are far fewer 'audio systems' about. A few years ago there were dozens and now for those of us whose system are coming end of life the choice is far more limited. Here a rather nice compact system from a known name Yamaha.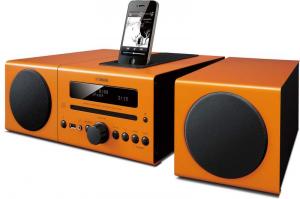 click image to enlarge
The Yamaha Audio System MCR-042 is actually in three pieces –although most illustrations make it look like one – the central item with all the controls and two separate speakers that can be placed anywhere within the length of the provided 1.5 metre speaker wires.
Lets deal with the other items supplied, a 32 page manual all in English, a DAB/FM aerial, a dock cover for the 'i' device and a remote control that includes the required button battery.
So what exactly can the unit do. It can play CD's, play DAB radio, play FM radio, play MP3 files either via the Auxiliary lead and a music device or direct from a USB stick. It also supports any 'i' device that has the Apple 30 pin connector. For you modern iPads you can play via the USB port.
After opening the box you need to connect the colour coded speaker wires to the speakers and the rear of the main unit. This is also the time connect the DAB/FM aerial. Place the unit in the required place and connect the mains lead.
On first switch on it is ready to use for all but radio. First use of DAB will do an Autotune and it will default to the first station found in my area area that is one of the 'Absolute' channels. However scroll through to whatever station plays you preferred Genre and on next usage of DAB that will be the one that comes on.
FM radio requires you to tune up or down the waveband to find a station you like and again it will remember that. Most of us have more than one that we listen to and you have no less than 30 presets that are easily setup for quick finding.
If you have an 'i' device with a 30 pin adapter there is a dock on the top of the unit, this will play – and charge – your device.
The USB port can be used for the recent large 'i' devices and it can also be used to play any MP3 files it finds on USB sticks, unlike some devices this can also work through nested folders.
If you own a humble MP3 player you are not forgotten as there is an Auxiliary input.
This leaves the heart of the audio device the CD-Player which not only plays standard CDs as purchased in shops but also those make with other formats such as MP3 (you can get over 20 hours of MP3 on a CD) enough for any party.
The speakers provided give 15watts of power enough for most rooms with something to spare. These are 11cm cones.
While there are many units out there with CD playing ability in most cases these are radio units first and audio units second.
The MCR-042 is an audio unit that can also play USB, DAB and FM radio, has Auxiliary input and of course an 'i' dock built in. So if you are looking for an audio unit this should certainly be on your short list.
The unit was supplied by Argos and they have the Yamaha MCR-042 is available from the link below for £299.99. Look at the second link to see how many colours are available.
http://www.argos.co.uk/static/Product/partNumber/1397774.htm
http://uk.yamaha.com/en/products/audio-visual/desktop-audio/mcr-042_b/