GE Camcorder DV1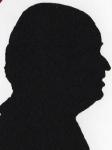 Review controls
Often not being the first to market is a plus as is the case here. The 'Flip' has long been the best pocket camcorder around; many have tried to copy or improve. Here with the best bits from several is this offering from GE.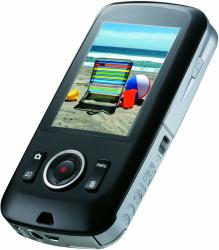 click image to enlarge
GE have been in the small –pocket size- digital camera market for a few years now, last year they brought out a DSLR like unit that was a good bit larger. Here they go smaller with a pocket camcorder that has bags of features.
It is 10x5.5x1.8cm and weights 146grams. It is stated to take full HD movies (1920x1080) but importantly it can take lesser sizes. It is stated to be shockproof with a 1.5Metre (5ft) statement; it is stated to be waterproof down to 5 metres (16ft) and finally stated to be dustproof. Although not immediately mentioned it can also take still images.
The screen is 5x3.7cm, below this are two vertical pairs of rocker buttons and between then the ubiquitous five position joystick. The right side has on/off button and below this a door that you insert any SD card behind, be they SD, SDHC or SDXC. The top is clear and the base has a tripod screw. The left side has a similar door to that on the other side this has a yellow catch that allows the USB plug to flip out and beside it an HDMI socket to allow direct viewing.
The battery is solid and inaccessible but is charged by the USB every time you connect to a PC. The first connection it will want to install Picasa 3 a photo manipulation package. Unless you have another favourite this is quite acceptable and it's free.
The internal memory is the Picasa folder 11.8MB and allocated a drive letter, any movies or pictures you take are stored in the next drive letter which is your SD card. The same folder contains both still images and movies. They are numbered sequentially with either a MOV or JPG extension; both should be viewable on a Windows PC.
Let's deal first with photos taken at 5MP; they can be saved in Best, Fine or Normal Compression. You can even take a photo while shooting a movie, this feature works well and I know no other unit that can do this. The one drawback I can see is that there appears no way to remove the sound of the shutter which can be a problem if shooting a video from a music gig and there is say a bass solo and you then capture that click onto the video soundtrack.
For movies you have five choices of size 1920x1080 at 30fps, 1280x720 at 60fps, 1280x720 at 30fps, 1440x1080 at 30fps and 640x480 at 30fps. The capture screen varies in size from 3.8x2.8cm down to 3.8x2.2 cm dependant on the size of movie you are currently set to capture.
As most will now be aware Cisco are killing Flip – seems to be a good way to waste money to me – but for anyone wanting a good camcorder this offering from GE seems excellent value and takes a quite reasonable photo, after all GE are predominately a still image company. A flash option might have been nice but of course that is me looking for nirvana. The low light performance could also be improved, and while I am looking for the near impossible how about a wider view from the lens.
One venue I capture a number of movies at has terrible LED multi coloured lighting and while most people seem to be green or purple – whatever their skin colour – with most camcorders, with this GE unit they look near normal.
I have several friends who I send clips to without telling them what it was shot on and request their opinion on video and sound quality. Every one has said that even at 640x480 the videos and the sound quality is excellent.
So it's not just my opinion but five other sets of ears and eyes that say GE you have hit on a winner with your DV1 unit and without hesitation I give it highly commended. Maybe the next generation will get the rarely awarded 5x5 award.
Doing my Internet searches found the GE DV1 at a best price of £76.91 from the first link below.
http://www.amazon.co.uk/gp/product/B0044DEEJM?ie=UTF8&tag=gadge0a-21&linkCode=as2&camp=1634
http://www.general-imaging.co.uk/our-cameras/active-series/dv-1.html