Mogo X54 has the 'X' factor

Published 11 Dec 2007 Author
jzblue
If you need an ultra-portable super-flexible mouse for your laptop, look no further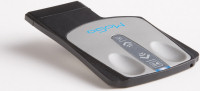 Mogo X54 Mouse from Newton Peripherals
I had an original Bluetooth PC Card Mouse from Mogo that worked fantastically every time with my laptop - a great neat piece of technology. Then I upgraded my computer and ended up with a PC express slot and rued the day I couldn't use my super-slim, ultra-portable mouse. The launch of the new Mogo 54 is a godsend to all those of us out in the PC card wasteland who hate using touch pads.
Just like its predecessor the Mogo X54 is a seamless blend of form and function. Designed to slot into your laptop's PC Express card slot for storage and charging this sleek mouse definitely has a 'wow!' factor. Just slip it out, lift the kickstand and you are off. The small finger grooves are ergonomically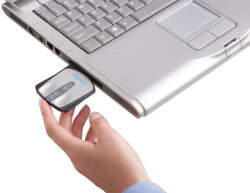 designed to help you to manoeuvre the mouse and the laser engine is very precise. It lacks the weight of its predecessor at only 14 grams but you quickly get used to that. Travelling on a train recently I was happily using the X54 and everyone around was fascinated by it. They wanted to know how such a slim card could be robust enough to house the Bluetooth technology and also be a mouse.
I don't know how they do it but the X54 is simple and reliable to use, easy to set up and can be used as a mouse or it also has a multi media mode to control audio and movie functions remotely.
At £50.87 the Mogo X54 is not cheap but it is well worth the money.
Available from Misco on the following link :
http://www.misco.co.uk/applications/SearchTools/item-details.asp?EdpNo=262773&CatId=513
More information can be found on the Mogo web-site on the following link :