Kodak Play Sport ZX5 Video Camera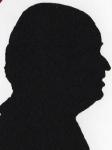 Review controls
With 'Flips' now a discontinued line there is a gap in the market for a small – pocket size – camcorder, this one from Kodak is waterproof to ten feet and has a range of special features as well as the ability to take stills as well as video.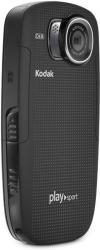 click image to enlarge
The Kodak Play Sport ZX5 video camera measures 11x5.5x1.5cm and weights 125grams. Like most cameras and small video units the storage medium is SD card and this can accept cards up to 32GB.
The on/off button is on the top of the camera, the right side has whatever SD card you use behind a snug fitting door. Bottom corner has two holes for you to feed a wrist strap though very useful for underwater use. The base has the normal tripod screw fitting. Finally another snug door on the left sides hides the USB and HDMI sockets.
The units lens is towards the top of the back while the face has a 4.3cm TFT towards the top with a semi circle of five buttons almost like a lowercase 'l' and to the right of this the ubiquitous five position joystick control.
When you turn on for the first time you set up Language, Time and Date and you are then ready to capture video.
The five buttons are all clearly marked the top one switches between video and still capture. Unlike some other units you have a choice of capture sizes for video full HD (1080p), 720p at 60FPS, 720p and lastly WVGA.
You do not have a choice for still images but the image size is 3072x1728 and they will be upwards of 1MB in size, they have decent clarity and depth but do remember if you rely on this as your camera it has no flash ability.
At HD (1080p) a minutes video will be around 70MB of card space, when playing back on a PC you may find – unless you have a powerful unit – a few frames dropped but even on a Windows XP unit the sound was kept whole. The logical way to play these videos is through your TV using the supplied mini HDMI to HDMI cable. With this watching the videos was as good as watching a 1080p film the only minus it will only work if you have the micro USB to USB lead plugged into the supplied mains plug as well. Both these are side by side as mentioned above and the USB lead is only 90cm long and the HDMI lead not much longer so it can be a logistical problem to get a power socket near enough to make the connection to the HDMI socket on the TV with the Play sport in the middle. For those without HDMI a video cable is supplied that can be used.
When capturing video it is possible to zoom in and out but use with care as sometimes the action will cause some jerkiness. Some quite high end cameras do not allow zooming while capturing video for this reason so plan your shots.
There is a reasonable User Guide that does more than cover the basics but a fuller manual is available on line. Should you wish to manipulate your videos some ArcSoft software will be installed on your PC on first connection.
The nearest I came to testing the underwater facility was in a bucket of water but going swimming at this time of year is not for me. I note the camera is also stated to be shockproof up to 1.5metres which is probably the same as dropping from a shirt pocket, I am not someone to try this and take those claims on trust as I do the 10feet (3metres) waterproof ability.
I was pleased with both video and still images that it took. Quality when shown on a TV was excellent; the editing software is adequate for basic work. I have only two concerns already mentioned zooming while capturing and the lack of a flash to use for still capture.
Doing my Internet searches found the Kodak Play sport ZX5 at a best price of £76.73 with free delivery.
http://www.amazon.co.uk/gp/product/B004MMF7QE?ie=UTF8&tag=gadge0a-21&linkCode=as2&camp=1634
http://shop.kodak.co.uk/store/ekconseu/en_GB/pd/PLAYSPORT_Video_Camera__Zx5/productID.222971300