Perfect Muffins with Tefal Jamie Oliver Advanced Silicone Bakeware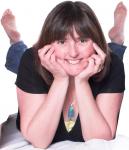 Tefal have teamed up again with Jamie Oliver to give us the fantastic Advanced Silicone Bakeware. Their claim that "unbelievable cakes will pop out!" is well and truly justified with a range of baking moulds to make you smile.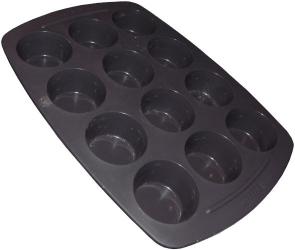 It's been one of those weeks! And my Mum always said "Whenever you're down bake a cake - you'll always feel better". She's right and I'm sure Jamie Oliver would agree. So between my Mum, Jamie and Tefal my long hard day was brightened up by cake making with the Jamie Oliver Professional Series Advanced Silicone Bakeware (that's a mouthful bigger than the one of the muffins I've just made).
I am now eating one of the most delicious cherry muffins I have ever tasted. It's light fluffy and has no burnt bits. My muffins were incredibly easy to pop out from this silicone bakeware.
At first it feels a bit odd putting cake mixture into a rubbery feeling cake mould (can't really call it a tin anymore!). This is non-stick like you've never known it before - the food positively slides out or pops out as you press from underneath. It's very hard to explain, but believe me you will never have found it so easy to get baked food out of it's container! And you don't need greaseproof paper or paper cases. Not only can you make hot food in this bakeware, you can also use it as moulds for cold desserts.
I tried out the 12 Muffin Mould which was just fab! You can also get a loaf mould, sandwich mould, 6 muffin mould (why have 6 when you can have 12), fluted tart, oblong cake, square cake and deep sandwich mould. Now that lot should cover any occasion.
What's more it washes up very easily - unlike my non-stick tins which always get crusty bits on them.
Now I'm a traditionalist so I don't have a dishwasher or a freezer, but I'm assured by Tefal that this fantastic bakeware not only copes with up to 250°C in the oven, it is also freezer and dishwasher safe.
In this game of gadget testing I'm very glad there are some brands out there that bring a smile to my face just knowing I'm going to receive a product from them. Tefal is one of those top favourites. I'm so happy with my muffins I'm spurred on to create an article soon about brands, including Tefal, that live up to their name!! Watch out for it!!
Oh, and go and add these moulds to your kitchenware - with the credit crunch you'll be glad you can bake cakes better than you can buy in the shops!
You can find a range of Tefal Jamie Oliver Advance Silicone Bakeware at Amazon from £15.97
http://www.amazon.co.uk/gp/search?keywords=jamie oliver silicone bakeware&tag=gadge0a-21&index=blended