Getting to Grips with Windows 8

Now that Windows 8 is here we will have to get to grips with it. Even if we haven't bought a new machine with it installed, all too often, friends and relatives assume we know it all -- even if we haven't even used it. Windows 8 for Dummies follows on in the wake of previous Windows books in the series and is suitable for both the beginner who is new to computers and the more experienced user who is also faced with something new.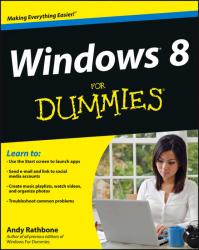 click image to enlarge
The author, Andy Rathbone, points out that Windows 8 works best with touchscreens and that there is generally no need to migrate to Windows 8 and that most people stick with the Windows version that came installed on their computers. However, "if you manage to figure out Windows 8 once, you'll know how to run it on all your Windows devices…"
This book is not a manual; it is a problem solver that you turn to in time of need. This may even be when, having switched a Windows 8 machine on for the first time, you are greeted with an unfamiliar screen.
The first section of the book is really a primer which covers the basics of Windows and puts Windows 8 into perspective. It covers the desktop and how to make your way around it, dealing with folders, and all aspect of storage -- internal, external and in the cloud.
The next part of the book is concerned with putting it to work. How to open a program, an app. or a document and then goes onto the basics of cutting, copying and pasting before showing how find lost windows, apps., programs or files. Then, under the heading "Finding lost photos" it gives sound advice regarding filing in separate folders and sorting by date etc.
"Getting things done on the Internet" which is the heading of the third section covers explains the issues involved on getting on to the Internet starting with the ISP and moving onto browsing and saving information as well as emailing. There is one short chapter entitled Safe Computing. I feel that these issues this should have been both expanded and given more prominence.
In fact in the fourth part of the book which is entitled Customising and Upgrading Windows 8 with the Control Panel makes a further short reference to security under the heading User Accounts and Family Safety as well as showing how to connect a printer. The chapter on sharing a computer with several people covers the important issues of Administrator, Standard and Guest accounts as well as individual and public access folders. Networking is also covered.
Prior to the final section on Help which covers assorted topics such as recovering deleted file, there is the section entitled Music, Photos and Movies which explains how to play and copy music as well the basics of dealing with photos and movies.
Overall, Windows 8 for Dummies seems to cover the issues that most of us will need in a substantial 400 page paperback. Having a cover price of £17.99 but available from Amazon for £10.25 it will not break the bank and is good value for money.