Eminent EM7285HD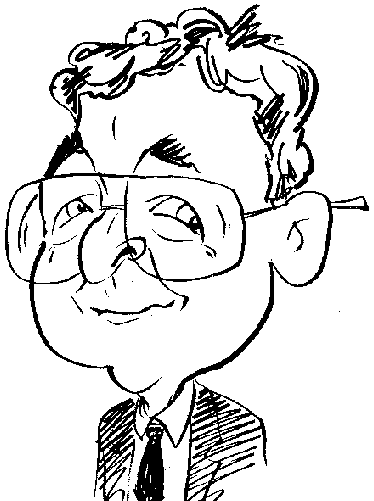 Review controls
No sooner do I complete my review of the Eminent EM7280 hdMEDIA RT3 product than the next version of this high definition multimedia player arrives for testing. This new member of the hdMEDIA RT3 family is the limited edition EM7285 HD media player which offers a range of additional features over the previous model.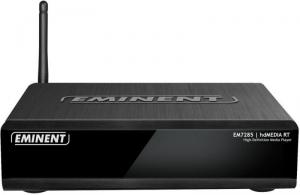 click image to enlarge
With dimensions of 196 x 180 x 55mm (W x D x H), the media player's aluminium body is predominately black in colour although it does feature a raised silver Eminent logo prominently displayed across the top of the box. As with the previous model, the rear of the unit is well populated with a full complement of connection options. There are jack sockets for coaxial, AV OUT / Composite, optical audio and Component Video (Y/Pb/Pr). You get a USB 3.0 port for linking to a computer plus a couple of USB 2.0 ports for attaching flash drives and external drives to the unit. There are ports for HDMI, eSATA Host and LAN 1000MB Gigabit for a network connection. Also housed on the rear of the media player are a 12V DC power socket, on/off switch, a memory card slot with support for SD and MMC formats plus a screw socket for attaching the supplied Wi-Fi antenna.
This last item reveals one of the major differences between the EM7285 model and the earlier EM7280 product. As this antenna indicates, you have a choice of a wired or wireless network connection. By default a wired connection will be initially set up automatically but it is an easy matter to integrate the EM7285 into your home wireless network. This is achieved by selecting the network option from the Setup menu.
A second major difference between this model and the previous offering can be found on the right side of the unit. Both the two models can accept an internal 3.5-inch SATA hard drive but adding this facility has been made far easier with the EM7285. Rather than use a screwdriver, the right side of the EM7285 can flip out at the press of a switch to give you access to the drive bay into which the internal drive can be inserted.
While you will need to provide this drive and an Ethernet cable, Eminent does provide the other accessories you will need when making full use of this media player. Along with the two-piece power lead, you get a HDMI cable, USB 3.0 lead, optical cable and AV cable. A full remote control unit and two AAA batteries are included in the box. Documentation is provided in the form of a printed Quick Start Guide and a User Manual in PDF format on a CD.
Designed by Project Mayhem, the EM 7285's interface presents six main options arranged in a circle around whatever is the currently selected option from a choice made up of Setup, Apps, Photo, Movies, Music and Manager. As mentioned earlier, you can use the Setup option to create a wireless link plus make adjustments to audio (either HD audio or 5.1 sound) and video (4:3, 16:9 or 16:10 aspect ratio) settings. You can turn on/off features such as auto-play, DLNA Renderer and Resume Play. The Manager Option allows you to switch between available source resources that are currently connected to the media player. These options could include an internal hard drive, USB device, memory card, network and UPnP.
Content will be automatically sorted into the appropriate categories of Music, Video and Pictures. Depending upon the content you can create a slideshow with or without background music and transitional effects, create specific playlists of your favourite music and zoom in and out of movies. A front-mounted feedback screen on the media player provides timing feed when watching movies or listening to music.
The Apps option is your gateway to the Internet. Unlike the earlier EM7280 offering, which allows for a controlled Internet experience, the EM7285 has a built-in browser entitled RealPilot. Using this feature you can browse the web and enter specific URLs using an on-screen keyboard and your remote control unit. This is a rather long-winded approach, especially for those who have little practice at using smartphone keypads. I felt that using the Play button on the remote rather than the OK button to complete the entry of a URL was confusing to say the least.
You could also encounter problems with some web sites that you require you to make a decision by making selections before you are granted entry. An example of this occurred when I attempted to log onto MSN.com. The site automatically puts up a box that offers to transfer you to your local MSN site. Unfortunately, despite the numerous buttons and options on the remote control, I could not find a way to select either the Go or Cancel option although I was allowed to scroll around the screen. I finally solved the problem by attaching a USB mouse to the media player.
As well as this web browser, you also get access to various web-based services. Direct links are provided for Video podcasts, Audio podcasts, YouTube XL (could not get the search feature to work), Yahoo! Weather and Finance, Buddy Link, Dailymation and Picasa. You can also access YouTube, SHOUTcast, Icecast, Metafeeds, Gametrailers and Revision3 amongst other services offered by Eminent.
At this point in my review I would normally be expecting to round matters up but the arrival of an update from Eminent brought about a change of plan. This update consisted of new firmware for the EM7285HD and the earlier EM7280 along with the launch of the company's AppCenter. Lets deal with the firmware aspect first.
All that is required for the firmware update is to download the relevant file which can be stored on a flash drive for attaching to the EM7285. The firmware renames the browser and adds the AppCenter to the list of options available from the Apps section of the main menu.
In order to make use of the AppCenter and its various media sources, you need to set up a free account with an email address and password. Normally this should be a straightforward process but I did encounter problems due to a lack of documentation and on-screen instructions being in Dutch. Fortunately Eminent's technical support came to my rescue.
As mentioned, the available apps give you access to a range of multimedia content from television and radio stations. You can select the apps that appeal either using the built-in browser or your computer with automatic synching taking place. Each app can be assigned a PIN to ensure only those authorised have access to the individual services that include the appropriately named PornHub.
Unfortunately I was unable to view content from all of the apps. Some of the apps just displayed a message stating "Cannot play this file". This message occurred when selecting RTV noord, Oog TV and Zippo. Other offerings, such as RTV oost, Gemist, Sky News and France 24, were more obliging and delivered their content. The Eminent AppCenter, as it currently stands, is hardly a positive reason for purchasing the EM7285 but it does show what could be possible in the future.
The EM7285 supports a wide range of multimedia formats
| | |
| --- | --- |
| Video | DVD-ISO, TS, VOB, AVCH, H.264, DivX, XviD, AVI, BluRay ISO, MPEG 1/2/3/4 amongst others |
| Audio | AC3,DTS, Dolby TrueHD, MP2, MP3, OGG Vobis, FLAC, ACC amongst others |
| Picture | HD JPEG, BMP, GIF, TIG and PNG< |
You will need a television or monitor with HDMI or composite video connection. Pricing has been set at £189.90.