GoLite battery backup with torch

As winter draws on it is becoming more and more useful to have a torch with you. Not only does the ifrogz GoLite meet this need it also provides a pocket sized universal battery backup for virtually any smartphone.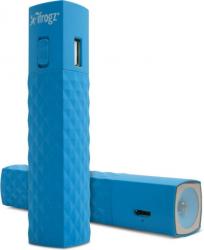 click image to enlarge
The GoLite has a polished black plastic surface and is 105mm long. It has a roughly square cross section with its gently curved sides being patterned over two-thirds of their length. This makes it easier to find the "business end" in the dark when needing to use the torch. Conveniently positioned to be reached with one's thumb is the three-position slide switch: torch on / off / charge external device. It is supplied with a black wrist strap and a 60cm charging cable which has a standard USB connector at one end and a micro at the other. This, possibly with the Apple market in mind, is in white.
The 2,600mAh battery has a 1A max. output. This, one must appreciate, makes it unsuitable for the heavier demand imposed by power-hungry tablets. When fully charged, it will provide a full charge for virtually any smartphone while, when used only as a torch, it will have a run time of up to 48 hours.. In reality, as one generally only uses a torch for just a minute or so at any time, one can ignore this load for most practical purposes. As a torch it employs a single LED which is powerful enough for many purposes such as lighting one's way when walking along a rough path. However, I did find it disconcerting that, when using it as a torch,a fair amount of light leaked out via the USB ports.
Using the provided cable the GoLite can be charged from any USB mains charger unit. To do this the switch is set to its mid position. The LED glows red during charging and goes out when the unit is fully charged (in about 4 hours if the battery was completely flat). In a similar manner, the LED glows blue when charging an external device and then goes out when that device is fully charged.
As a battery backup it performs just as one would expect and the torch is bright enough and useful enough to merit being carried in one's pocket or purse. Hence, overall, the GoLite is a sensible and effective device as it performs both functions adequately and, because of its dual function, one is less likely to forget to take it with you.
Priced at £29.99 incl. p&p from the Zagg.com web site it will make a useful present for anyone with a smartphone (including yourself).