Brando Magnetic Suction Phone Razor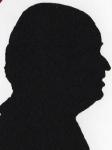 While most will think of Brando as the King of anything USB this is a slightly different offering as it actually takes power from your phone for those occasions when the end of the day is a long way away but your beard needs some attention to make you look as though it is still 9AM.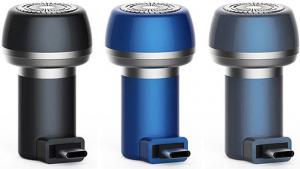 click image to enlarge
Phones run for a day or so and then they need recharging. This tiny shaver takes power from your phone and fits onto its base.
It would take a while to do a full shave especially for those with a vigorous beard however before you buy you need to select the type of method your phone charges either micro USB or USB 'C' as they are different items, I was sent the USB 'C' version.
The shaver itself is 4.7cm long thickest at the head end where it is 2.7cm across, it weighs 39 grams.
It comes in a clear box 6.5x6.5x3.5cm, apart from the shaver the box contains a fabric draw string bag, a head cleaning brush and a small two sided user guide.
Just attach the razor to the charging port on your phone, assuming it is already setup with OTG activated then it will start automatically if not instructions are in the guide to activate.
Initial usage needs to be 'light' as otherwise there might be skin irritation but after the first few uses it can be firmer.
I doubt anyone will use this as an only razor as there is only one circular head and doing a full face will take time as razors of the circular head type are normally in a set of three heads.
So as suggested earlier ideal for occasional shave late afternoon when the beard has already had half a day's growth. The actual shavings are captured in the head for disposal at a later time using the brush supplied.
Of course this takes power from your phone but with the aid of a micro USB to USB lead you can utilise a socket on the shaver – the other side from the USB 'C' on the housing so it can be run from that at any time where a USB port is available so this could be a mains USB or a Notebook or Tablet.
But as most peoples keep their phone with them it could be anywhere and you can even check the state of your beard using the camera Selfie option.
The Brando Magnetic Suction Phone Razor is available from the link below for $18 (US) about £14.50 and they do free worldwide shipping. There is a choice of three colours.
https://shop.brando.com/Type-C-Magnetic-Mini-Travel-Shaver_p21450c1969d146.html