Brando nano USB 'C' Adapter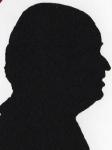 A tiny device that arrived in a small plastic sleeve and this still in a not large clear plastic envelope with the lettering USB 'C'. It is designed to fit in any device that has a USB 'C' port like the majority of recent mobiles or some recent lightweight Notebook/Tablets, that are lacking the thing that most people still require a full size USB port.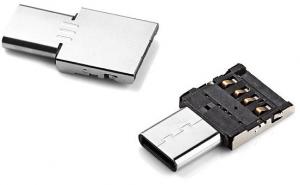 It is 2cm long, 1cm wide and .1cm thick, it weights well under 1gram, yes 1gram and only just 2grams in its protective plastic holder which has a hook on one end and it clips into it.
All you need to do is remove it from its holder and fit it into any USB 'C' port and then attach any standard USB drive and it is read by the phone or Notebook/Tablet that it is connected to.
While there are other ways to transfer audio, video and photographic files I doubt any will be quicker or easier.
Depending on your phone you may have to download a file manager program in order that your phone can see external storage, to allow you to transfer the data either to internal memory or a micro SD Card.
So this could be considered as an OTG (on the go) device without any memory and that means it cuts out a stage of copying files from one PC or USB drive you just attach a USB drive as if it was a standard USB port.
As it is USB 'C' it is also very fast so those video files you have captured on your phone can be transferred quickly to a USB stick and then to wherever you want.
I know so many people who think they have to remove their micro SD card from their phone which for a lot of recent phones means shutting them down and in the process they can of course miss an important call.
The one proviso for use with a phone is that the USB 'C' port must allow data transfer, most recent phone do allow it but some still do not. I was very surprised that one recent phone using Android 8 – the very latest version – did not seem to accept data transfer, however if you search through Settings it is there as an option.
This is a nice tool to live in your wallet – simply because wherever else it will soon get lost – and then attach to your phone or the increasing number of Notebook/Tablets that do not have a full size USB port.
Available from the link below for $11 and mine arrived via two day courier.
http://shop.brando.com/nano-type-c-otg-adapter_p17547c1969d146.html