Kensington USB 3.0 hub

The Kensington USB 3.0 hub model UA3000E provides three USB 3.0 ports as well as a Gigabit Ethernet connection and so could be a useful add on to a netbook or laptop which lacks necessary ports.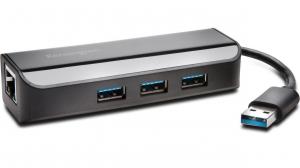 click image to enlarge
The UA3000E is a small unit which is compatible with both Windows and Macs. It will take up very little room in a laptop bag and will provide much useful connectivity. It is black in colour, weighs just 68g, is 105mm x 45 x 25mm in size and has heavily chamfered edges which give the impression that it is smaller than it actually is. The three USB 3.0 ports are along one side and, at one end, is the Gigabit Ethernet. At the other end is the 10cm long USB 3.0 cable to connect to the laptop. Alongside this is a 5V d.c. port. This could be used to connect to an external power brick so as to provide additional power to support a power-hungry device, such as a USB 3.0 hard drive, connected via the hub rather rather than directly to a USB port on the computer.
By the way, it is worth pointing out that, as the hub needs to occupy one of the USB ports on the computer it only adds two available ports rather than three. Nevertheless, this is enough for most people's needs.
Having downloaded and installed the drivers (using a wireless connection) I inserted the hub into a free USB port and connected a mouse and a keyboard to two of the ports and then, using an Ethernet cable, connected to my router.
I found that, even on a USB 2.0 connection which is one-tenth of the speed of the 5Gbps USB 3.0, I did not notice any slowing down or "hanging" when using the external keyboard and mouse at the same time as viewing videos while connected to the Internet.Although I did not connect a USB printer to it I found that I was able to access and use the printers on my network so that the the slower speed of using an older laptop which only had USB 2.0, and not USB 3.0, did not appear to be a problem.
Overall, I found that it is a both simple to install and use. Furthermore, it could easily be left on the corner of the desk with the mouse, keyboard and Ethernet connections to the router already in place. Then, there would only be a single connection needed, in addition to the power cable to one's laptop, with the result that it is a quick and simple matter to start working using a proper keyboard and mouse.
With a List price £59.47 but available on Amazon for £24.34 this is a worthwhile investment for the person who, as well as using a laptop or netbook on the move, needs to use it at home and doesn't want to waste unnecessary time.