Samsung N210Plus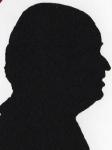 Review controls
This is another small Netbook this time from Samsung. Like the Acer one in the previous review it has remarkable battery life in fact I used wireless for a continuous review period of very close to seven hours use.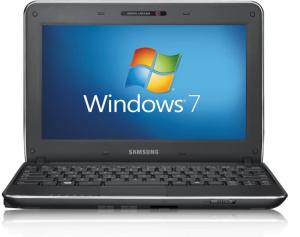 click image to enlarge
The Samsung N210 Netbook measures 26x19x3cm. These are the maximum as the last figure, the thickness, is only a tad over 2cm everywhere but at the back where the battery increase to the maximum. It weights 1280grams. It is black but only the face of the lid is shiny. This means that fingermarks only show on the lid, while the area around the keyboard and the screen do not show them.
The keyboard has 84 keys with the alpha and numeric keys being fullsize at 1.5x1.5cm and .4cm between each key meaning even sloppy touch typists should product good work.
The viewable screen is 22.5x12.5cm giving the diagonal measurement of 10.1inches. The default resolution is 1024x600.
Let's get the less good news out of the way first start up is only slightly less than a minute with shut down over 30 seconds from a blank desktop. You must add around 45seconds to the boot time before wireless access is available for use. However restoring from standby with all open applications in place is a very acceptable 7seconds.
The left side has DC power entry point, Ethernet port, USB port and microphone and headphone/earbud sockets. The front has five pin hole LEDs and also a pinhole microphone an SD card slot and the on/off slider. The right side has two USB ports, VGA outlet and the all important Kensington lock point. The back is clear as the battery fills it. The screen tilts back around 35degrees which for some situations may not be enough.
I moved around using wireless and found reception was always good wherever I was in my house with some this drops right off in one room.
The Windows Experience figures do not tell that much they are Processor 2.3, Gaming Graphics 3.0, Graphics 3.1, Memory 4.5 and Hard Disc 5.9.
The hard disc is divided into two, 85GB for 'C' and 127GB for 'D'. The memory is 1GB while the processor is Intel Atom N450 1.66GHz.
The software is Windows 7 Starter with Office 2010 Starter. Both should be powerful enough for any Netbook use. Other full software includes some utilities as well as Cyber Link You Cam software that works with the built in webcam. There are trial versions of Norton Internet Security and Norton Backup also on the hard disc. There are games as well, also a piece of software that allows one USB port to remain live even when the PC is switched off, useful for charging other items.
I installed several applications by copying the CD's to a USB stick and installing from there without any problem all ran as expected.
For me anyway I want a day's use out of a Netbook and by turning wireless off when not required I got very close to ten hours and this included around four hours of wireless use. As stated I got all but seven hours with wireless on all the time. It is typeable and the 10.1inch screen is clear and easy to read in all but very strong sunlight directly onto the screen.
If you use standby then the slow loading and shutdown are not a huge problem. The close to 1300 grams weight is enough to cart around but having contact wherever there is wireless will be most important for lots of people.
Doing my Internet searches found the Samsung N210Plus at a best price of £279.99 from the first link.
http://www.amazon.co.uk/gp/product/B003R6MAES?ie=UTF8&tag=gadge0a-21&linkCode=as2&camp=1634
I found the Samsung N210Plus available in white from Amazon for $495.95 plus delivery on the following link:
http://www.amazon.com/gp/product/B003OYTX52?ie=UTF8&tag=gadge0a5-20&linkCode=as2&camp=1789
I found the Samsung N210Plus available in white from Amazon for €349 including free delivery on the following link:
http://www.amazon.fr/gp/product/B003UHW2Q0?ie=UTF8&tag=gadge04-21&linkCode=as2&camp=1642
http://www.samsung.com/uk/consumer/pc-peripherals/notebook-computers/netbooks/NP-N210-JP03UK/index.idx?pagetype=prd_detail