Wall-E and Eve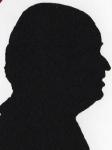 I have not seen the Disney film myself but I still know it is the hit of the year as far as the kids are concerned so I have little doubt that these robot toys will be the top of Santa's list for a great deal of pester power generation.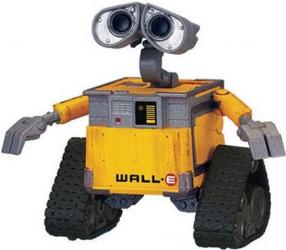 I must start with a warning these products are extremely difficult to remove from the packaging. If you are giving this as a gift I suggest that it is extracted from the packaging first as by the time you have done it the child will be bored. I found six ties that go right through the packaging and need to be fed out to allow Wall.e to look as if he can be extracted. He cannot as there is also a nylon tie at the neck that needs to be snipped but only once the sellotape and cardboard have been removed. They do come with batteries however they are only there for demo purposes so a good supply of 'AA' batteries will also be required.
In a way Eve is worse. Initially only two ties but then she still does not move and there are several clear plastic strips. At this point you have an egg shaped body that says in a seductive voice Walleeee. She comes in three bits; another two ties have to be removed to extract her base and finally another two nylon ties to remove her middle. The only instructions I found were those on the boxes and certainly the mid section of Eve can be fitted more than one way but she is unstable when fitted incorrectly.
Either can work independently but once they are together they really interact and their vocabulary increases greatly.
Wall-E first he is a robot with caterpillar tracks arm, eyes and he speaks. He is 17cm wide, 15cm deep and 17cm tall all these figure are approximate as his hands move as does his head/eyes. He is JCB yellow with brown (fake dirt) as after all he is really a robot rubbish collector. He has a push button control on the front and another on the back but the demo/off/play three position slider switch is underneath.
Eve is 28cm tall when on her two piece wheeled base she is 13cm wide and a maximum of 9cm deep, she is white with clear plastic base while her arm move the action happens with light effects and sounds from behind her visor on her head. The blue eyes are quite real looking, tap her head to upset her. She has a push button on her back for extra effects and like Wall-E she has the same three position slider but hers is a lot easier to read and hers is on her back.
While each of them separately make noises and words when they get together interaction occurs. While writing this I had them either side of my keyboard and their antics had me smiling.
Of course the real judges are children and I have no doubt they will love them. Probably even more if they have seen the film.
Both boxes state 4+ I would suggest while a child of that age could interact – they do interact to voices – and Wall-E is supposed to be frightened by loud noises, Eva certainly disapproves of having her head tapped.
The only instructions are those on the back of the boxes. You will certainly need a small cross headed screwdriver to replace the three 'AA' batteries that power the robots. Certainly no child of say less than ten would be capable of safely extracting the units even those with the patience to carefully undo the the plastic coated metal ties.
If these are a present for Christmas or a birthday at that time of year and the child is young I would extract Wall-E and Extract and assemble Eve beforehand and leave them on show for the child when it wakes on the day.
I think far to much is put on the ability to show items like these working the shops while still in the packaging. Still I expect young children to enjoy them to also remember at least six extra 'AA' batteries as otherwise expect a tantrum or three.
Still very new so prices may fall, but as I expect them to be big sellers on the back of the film do not hold your breath. www.wall-e.com I cannot currently find them for sale anywhere, but they will be very soon I am sure.
Currently I cannot find Wall-e anywhere a couple of e-bay links are dead so you are on your own searching for shops.
http://direct.tesco.com/q/R.204-8114.aspx Eve is available from this link at £24.97