Canon A4 Colour Laser Printer (LBP 7018C)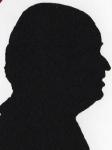 With all the coverage given today to inkjet solutions it is often forgotten what a good job a laser can do. Until quite recently a colour laser was very expensive, very large and very heavy, none of those things apply to this unit.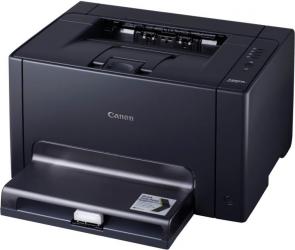 click image to enlarge
It is 39x40x22 with the detachable A4 input tray in place. Paper is laid face up in the input tray at the base of the unit and delivered face down onto the top of it.
The on/off button is near the base of the front to the right of the input tray and the other button and five well marked LED's on the right of the output tray on the top.
The power lead and USB lead are both on the back of the unit near the left side. This completes all the units' controls.
A mono laser used to be this size and weight until recent years now you get four toners in the size and space taken by one, of course they are a little smaller.
If a laser printer says 16PPM then you get 16PPM. Here you get 16PPM even if you use a very small font and print almost the entire A4 page. If you have colour in the page then you get 4PPM as it needs four passes to lay all the required toner onto the page. But once again it can be a full colour image you still get 4PPM for as long as you have paper in the input tray.
First page out time for a monochrome page is only 15 seconds from pressing the 'on' button, so ideal for the small office where printing needs vary so you do not need to keep the unit switched on throughout the working day.
Not only can you get great colour images you can also achieve nice looking greyscale offerings and the print resolution can be up to 2400x600dpi.
This is a very green laser using an average of .5k a week and in standby only 1.1watts. Installation and setup are very straightforward. I also found it reasonably quiet in use with no start up roar that you get from some units.
While you cannot print totally borderless you can print to within 5mm of any of its edges so that is pretty close.
It is recommended for those who need to print up to 15000 pages a month. In round figures that is up to 500 pages a day.
If I have a small difficulty its with the input tray it is stated as '150 page multi purpose tray' well as it's the only input it must be multi purpose and its easy enough to change the guide bars to accommodate different paper sizes. My problem is that I doubt anyone would get more than around 100 sheets of 80gram paper in the tray.
While it only has USB connection it can – and I did – use it on multiple PCs with a suitable modem router such as the Buffalo WBMR-HP-G300H that I reviewed recently. While the method the Buffalo uses is a little clunky it works and users in a small office could easily share this laser without any real problems in use.
The stated pages per toner cartridge are 1000 each for the colours and 1200 for the black so this is a cost to be factored in. Output quality was good, crisp and sharp even in small font sizes, colours were bright and clear.
Doing my searches found the Canon i-Sensys LBP7018c at a best price of £120 with free delivery.
http://www.amazon.co.uk/gp/product/B005LFT046?ie=UTF8&tag=gadge0a-21&linkCode=as2&camp=1634
http://www.canon.co.uk/For_Home/Product_Finder/Printers/Laser/i-SENSYS_LBP7018C/index.aspx