USB Socket Adapter from LIDL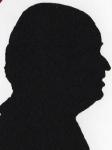 Finding useful small items that will appeal to anyone with a phone or other electrical device at home – even for those who do not own a computer – is difficult, finding something that will get used all the time at only £3.99 is almost unique.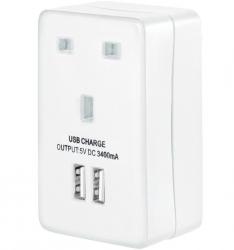 click image to enlarge
Power leads ending in an adapter are around and are very useful. Until now finding a socket adapter is hard, I know of a couple where you actually remove the front plate of a twin socket and then attach, - this works fine if your sockets are a standard shape - and the cheapest I have seen is around £15.
Here an adapter like an old two or three way socket the joy of this this that the socket is still available for use and for those who have skirting board sockets it is still useable as everything is above where the three pin socket plugs in.
So you still get your standard 13amp socket and you also get two 1.7amp USB outlets.
The whole socket is 8.4x5.2x3.5cm; while they are advertised as Black or White they are also available for those who prefer it in a Maroon red colour.
Early USB adapters could only charge .5amp, and then some computers allowed charging at 1amp. Yes there are now some that can charge at 2.1amp – providing the device supports it -; I charged several different devices using these USB outlets and I was charging a notebook at the same time from the 13amp plug.
It is nice if these items arrive before they go on sale, this one did not and so I purchased it myself from my local LIDL store as this is something that will get lots of use in my home.
As this item is like all the non-food items they sell once it's gone its gone so if you need one – or more - don't hang about or you could be disappointed.
Still being able to use the socket as normal means no removing something to plug in something else now all you need to do is remember your USB to mini USB lead, or your USB to micro USB lead, or your USB to USB 'C' lead and then your phone or other device need never run short of charged power again.
This product is ideal for those older people without a computer but who do have a phone or other device that charges by USB.
The SilverCrest USB Socket Adapter is available from LIDL stores – while stocks last – for £3.99.
https://www.lidl.co.uk/en/Non-Food-Offers.htm?articleId=2978&ar=7