Blackberry Bold 9000

Published Oct 27, 2008 Author
petew
Review controls
Like most people I'm very aware of the existence of Research In Motion (RIM) and their BlackBerry products. This is the first time I've used one in anger, and I'm pleased to say it's not all hype!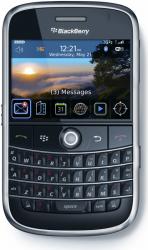 click image to enlarge
In this case I've been provided with the Blackberry Bold 9000. This is one of the wider variants that has a small, but full qwerty keyboard and a landscape orientated screen. Total dimensions are 114 x 66mm with a 16mm depth and a weight of 136g. The device feels very solid and well built. The rear of the device has a leather-like textured cover that is removed to insert the SIM card or to access the battery. For once it's good to see a cover with a proper clip that makes removal simple.
The BlackBerry bold is shipped with a good quality wired head-set/headphones, a charger, USB cable and a sturdy case with belt-clip. The whole package speaks of quality.
This outwood quality is reflected internally with the choice of functionality and capability. Built into the phone is a full 1GB of usable memory. Generous - but if you want more then this can be extended via a MicroSD card. Not, as is often the case, hidden away underneath the SIM, but much more sensibly accessible via an external slot. As well as supporting traditional MicroSD cards, the BlackBerry supports the more recent SDHC (High Capacity) standard. Currently this allows memory to be expanded to 8G, with 16G cards expected to ship shortly allowing the Blackberry to rival the storage on many expensive media players.
Screen and Navigation
The screen offers a 480x320 resolution in an area of 56x37mm. Because of the device form-factor this does not need to be turned on it's side to watch video. Quality is excellent - it's bright and clear and very easy on the eyes.
The large display allows the BlackBerry software (version 4.6) to impelement a very clear menu system. The default screen display shows date and time along with six of the most common functions (in my case email, contacts, calendar and web but this can vary). Access the full set of applications via the menu key.
Navigation and controls in general are well thought out. A 'track-ball' in the centre of the device provides mouse-like navigation of menus and web-pages. Convenient short-cut keys on the right-hand edge control volume and switch on the camera.
BlackBerry Connectivity
Here RIM have covered just about every base. The BlackBerry is a 3G mobile phone that also has Bluetooth for connecting to headsets and also, unusually, WiFi (802.11 a/b/g). I had no problem attaching to the GadgetSpeak office encrypted Wifi network. The BlackBerry will choose the most appropriate system for what you want to do. Without Wifi for example web-browsing uses the mobile data network. With WiFi switched on the device seamlessly moved to that system for browsing.
Wired connections are also very good. A standard USB socket allows connection to a computer and a standard 3.5mm jack allows you to connect your own headphones if you prefer. I would say though that the provided headset is much better quality than found with many devices.
Email and the Internet
The BlackBerry browser has been critised in the past as one of their weaker features being unable to render even fairly simple sites correctly. I'm pleased to see that this has now been remedied. In this incarnation the browser had no problems viewing a number of sites, including of course GadgetSpeak. This is helped by the high-resolution, bright display. Standard web-pages are scaled to fit full width on the screen and then the trackball can be used to zoom into areas of interest.
RIM and the BlackBerry have their history in the corporate world as an 'always on' email service - wherever you are your email will be delivered immediately to you. You're never out of touch! This email service is a core feature of the Blackberry offering. The review sample came configured with a BlackBerry email address and I was also able to add in my GoogleMail account with no problems. Test emails were very quickly available on the device.
Rich Text email (HTML) are displayed reasonably well, although unfortunately BlackBerry haven't made use of their new browser technology to allow zooming of mail in the same way as web-pages. A menu item allows the user to switch to the plain text version of emails, which generally work well. URLs within email are automatically detected and can be 'clicked' - opening the target in the browser.
Media Player
Any portable device these days would have to hang it's head in shame if it doesn't include a decent media player. No head-hanging for the BlackBerry though with both music and video supported, both of which can be loaded onto either internal memory or SD card. The software is clever enough to organise your media for you so everything is presented in one place.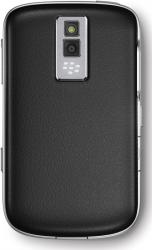 click image to enlarge
Thanks to BlackBerrys sensible design decisions the system has sufficient processing power for video playback without loosing performance. I've now tested so many products that claim video playback only to find that presented with anything sensible simply grind to a halt it's refreshing to find a product that can deliver. Playing full 480x320 (the maximum supported resolution) MPEG-4 video worked flawlessly. You can either listen to the audio track through headphones or through the integral speaker, the latter providing perfectly acceptable audio with decent volume for those times when you're stuck in a hotel room and bored.
Audio playback is obviously less taxing for the system and I had no problem playing back a collection of MP3 tracks on either the internal memory or on an installed MicroSD card.
Camera
Completing the hardware lineup is a 2M pixel camera. That resolution may seem somewhat low compared with other options on the market (but incidently is the same as the iPhone), however the images it takes are actually very good quality. The maximum resolution you can capture is 1600x1200 and video at 430x320 pixels.
Like many phones with cameras, there is no protection for the lens - no lens cap. Unlike most others though the BlackBerry does at least inset the lens so that it's not flush with the body and hence is protected from sharp pocket objects.
The BlackBerry also has the benfit of a built in flash. Not wonderfully powerful but sufficient for taking indoor snaps.
GPS
Just to make sure nothing has been left out the BlackBerry bold includes a GPS (Global Positioning System) receiver allowing it to work out exactly where you are. This is put to good use in the intrgrated map application allowing you to quickly indetify exactly where you are and also to find 'things nearby'. Asking for the nearest Starbucks worked almost instantly.
The GPS can also be used with the camera to store the geo-position in the meta-information stored with each image. A great idea for when you look back years later wondering whether that sunset was Corfu or Southend!
Battery life
A 1500mAH battery provides a claimed 13.5 days of standby time and 4.5 hours talk time. Obviously that assumes you're basically using the device as a simple phone and as soon as you make use of the other facilities on the device you're going to see that number drop!
Applications
The BlackBerry comes with a range of applications, primarily aimed at the business user. These include applications to show Microsoft Word, Excel and PowerPoint documents, to record voice memos. For those off-duty times there are a few games including a good Sudoku implementation.
Summary
I've not found anything that I don't like on the BlackBerry. It's pretty compact for a smart-phone without putting size above everything else. It has about every kind of connectivity you could want. I especially appreciated the thought that's gone into the design. The controls are carefully placed, the menus straightforward, the choice of 3.5mm jack for headphones rather than the more common proprietary option, the decision to make the MicroSD card accessible and to support the newer SDHC format, the bright display, the fast processor, real video playback rather than lip-service. All of these things make the BlackBerry a great all-in-one portable device - even if you're not a great email user!
For those that are addicted to their email (I've heard some people don't have email addresses, but I think this is just an unfounded rumour) the BlackBerry email service will keep you very much in touch.
Of course this functionality doesn't come for free. Checking Amazon you can get the BlackBerry Bold without SIM or contract for £499. On contract Vodafone give you the Blackberry free on contracts over £35/month or more.
Although this might seem high it is comparable to other high-function smart phones.