Sonoro iElements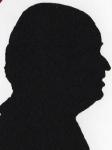 Review controls
Often trade shows promise much but often the vendors are more interested in direct sales rather than those generated by reviews. One exception to this is the iPod Dock Radio system reviewed here from Sonoro it has an all wood case so immediately you sense quality.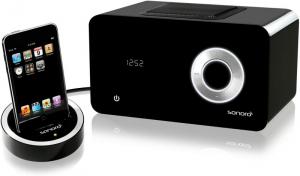 click image to enlarge
Two groups of people tend to wear white gloves, snooker referees and people handling very precious antiques that might be affected by the oils on your hands. I have found a third group where white gloves are supplied iElements owners. While the wooden case is shiny it's a great idea so why do computer notebook manufactures supply them all the time the screen surround on a PC is that horrible black that shows every fingermark?
Apart from the white gloves you also get an anti static cloth so your iElements should continue to sparkle like day one.
It is available in white or as I received it in black. The face has a screen that shows frequency while searching after that it displays the time. To the right of this a silvered ring, at the top '+', at the bottom '-', the left has '<' and="" the="" right="">'. All are fairly self explanatory. This is actually the generic ubiquitous joystick but until the press the centre it is not clear what it does. Under the clock display a touch button for on/off which can also be used to change from FM, iPod, or Auxiliary.
The sides are clear as is the base apart from four small rubber feet. The top has an 8.5x8.5cm speaker grill. This leaves the back, a single line of eight connections. External FM aerial (may not be required), a switch to either use the internal or external aerial. Line out, Auxiliary in, headphones, iPod, Kensington lock and DC input.
Lastly a screw door behind which is a clock style battery that will keep the time once set even after prolonged disconnection.
`While most modern units have integral iPod docks Sonoro have an external one via a nine pin connector which means you decide how close – and at what angle – it resides to the main unit. The lead is 75cm long and the actual dock is circular at 8.5cm and 2cm tall, the lead emerges from the rear and of course it charges the iPod whenever there is power and not just when switched to iPod mode. I liked the idea of a separate dock.
There is a four language Instruction Manual with 28 pages in English, this is one of the better written manuals I have read all the instructions are clear and easy to follow and joy of joys it is not in type that needs a magnifying glass.
While there is enough volume to fill a room it is really a personal device, I do not miss the near obligatory remote control. The wooden case gives a good sound from radio, iPod or an MP3 player.
It is possible to set up to ten presets but you need to use the joystick control to switch and they only display as numerals in the display. I know certain other units that can show FM stations by name.
As this is a personal unit you do have an alarm and you can choose to woken by radio, iPod or a persistent beeping sound. Should you want longer in bed then find the middle of the joystick which by default will give you five minutes more, this is adjustable. There is also a Sleep timer should you want to drop off to your favourite sounds. I doubt the minimum time of five minutes will work for most but this can be increased up to ninety minutes.
Both bass and treble can be set to give you just the sound you like. There is a dimmer control for the LED clock which at night in a dark room can otherwise seem very bright. Finally it is possible to turn off the illumination around the joystick as this will otherwise seem like a torch in a dark room. Options are high, medium, low and off.
Doing my searches found the Sonoro iElements at a best price of £149.00