i-Sobot from Tomy

Published Dec 15, 2008 Author
petew
Review controls
Robots have always held a fascination for me ever since my school days. In that time robots have evolved. Here I'm looking at the latest consumer 'toy' Robot - the i-Sobot from Tomy.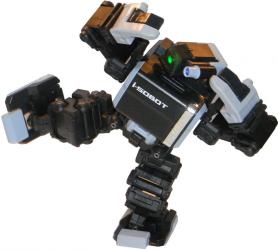 click image to enlarge
Things have moved on a long way since the plastic toy robot my father bought me well over thirty years ago. If I remember correctly that had a single electric motor in the base and a couple of caterpillar tracks to move. The only other technology was a couple of flashing lights.
The only real similarity between that long lost toy and the i-Sobot is that both are made of plastic. Gone are the caterpillar tracks to be replaced with 17 different powered 'joints'. Combined with a sophisticated control system that allows the i-Sobot to walk, dance and play air-guitar (amongst a very long list of other things!). As well as moving the i-Sobot has a voice - that is used on a frequent basis including when he's being ignored!
Even before I switched on i-Sobot I was taken with the tactile design. Standing approximately 160mm tall the body is very solid and all the joints move freely in your hands with a whirling mechanical noise. Before you can play of course you'll need batteries. The i-Sobot itself requires 3xAAA NiMh cells - and the documentation is quite explicit in telling you not to use alkaline cells that have a higher voltage. The product comes with these batteries and also thoughtfully a convenient charger. The other part of the package is a remote control unit. This will require 3xAA batteries which are not provided.
Inserting batteries into the i-Sobot requires the use of a small Philips head screw-driver, so be warned should you decide on leaving one of these under the Christmas tree in a few days time!
The robot operates in one of four different modes: radio controlled; programme; special actions and voice control. The default is radio control (radio being slightly misleading - the controller is infra-red). In this mode you can use the joy-sticks on the controller to perform some basic operations : move forward, back, move arms and head. Additionally in this mode the robot recognises over a hundred 'fixed moves' selected through combinations of the number and P, K and G buttons on the remote. Around half are labelled as martial arts.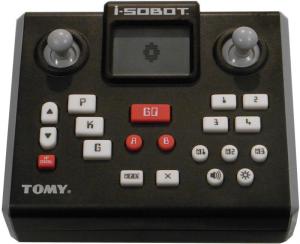 click image to enlarge
Programme mode allows you to build up your own routines that can be stored on the device itself. Three such routines can be stored. This takes a little practice but can be a lot of fun. Each programme consists of up to 80 'blocks' - much like steps in (old) programmable calculators. It's very much like recording a macro. Once complete you can work back through the sequence and make corrections.
If programming were simply a case of using the joysticks it would be fairly limiting - you can't get i-Sobot to do splits for example. It's often more fun to sequence together any of the 100+ actions.
Although programming is a little tricky I can see some opportunity for some great choreographed dances, and given there are two separate channels if your friend has one then who knows? Strictly come robotic dancing could follow! Actually I could see a competition for most impressive sequence sometime in the future!
Being a bi-pedal robot, the i-Sobot can sometimes loose his balance. Unfortunately he doesn't actually realise and you'll have to let him know and tell him to pick himself up. It would have been much more fun if it had some orientation device and could do an 'oops' when it falls over and then get itself up. Maybe that'll be in the next version!
Special action mode allows you to select one of eleven pre-programmed short sequences. I'm not sure why this is particularly different to the standard 'actions' - which is a pity because the head-stand could look good incorporated into a dance routine!
Finally there is voice mode. As the name suggests in this mode i-Sobot recognises one of eleven spoken commands. I had least success with this with i-Sobot frequently telling me that it didn't understand. Of the eleven possible commands I managed to get it to do around five.
I've had a great time playing with i-Sobot in the short time he's been here. According to the manual (which is very good) it's possible for i-Sobots joints to get out of alignment after a few knocks. Since there is no internal positional sensors in the robot it has no way of adjusting itself. Instead you'll have to manually adjust the joints into alignment. I've not had to do that but the process looks fairly straightforward.
Robotic toys are definitely moving forward in leaps and bounds. While the recently reviewed Pleo used robotics behind the scenes to create a cute pseudo creature the i-Sobot is a more direct or raw face of robotics and is for those with an inquisitive mind that want a toy they can teach to do things.
The i-Sobot is not cheap with a recommended price of £199.99, but I do note that it is available from Amazon at a much more attractive £122.18 including shipping.
The i-Sobot is not cheap but I do note that it is available from Amazon reduced from $179.99 to a much more attractive $79.99 including shipping.