Pleo - your very own dinosaur

Published Nov 24, 2008 Author
petew
Review controls
According to Ugobe, the creator of the Pleo, this is the very first life-form they have created. While a claim to have actually created life may be a little bold, there's no denying some of Pleo's life-like characteristics.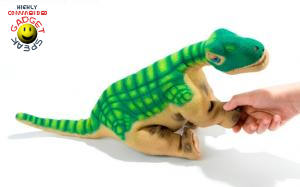 click image to enlarge
I'll start by mentioning the price, which I usually leave until the end, which is around about £200 $320 £200. Now you can either consider this as a very expensive toy or as a cheap way of satisfying your childs desire for a pet without the cost of a tin of catfood each day, vets bills and a responsibility for your pet long after your child has moved on to other delights.
You can see what Pleo looks like from the pictures - a small happy dinosaur. What you don't get is a feel for is the tactile, if a little rubbery, texture of his 'flesh'. Both our own children and their friends have immediately fallen for this piece of electronic wizardry.
For those of a technical inclination, the Pleo is basically a quite sophisticated robotic toy. An array of sensors provide motion, vision and touch sensory information back to the software controlling the little fellow. This data is crunched by two 32-bit microprocessors and four 8-bit micro-controllers. Motion is provided by 14 separate motors that control the body, legs, head, mouth and tail. This many motors do give the Pleo a very whirry mechanical sound - if the engineers can work on a silent motors the life-like properties would be somewhat enhanced.
All of this technology does of course require power, and you can't simply place Pleo in front of a bowl of cat food. Very thoughtfully the Pleo comes with two high capacity battery packs and a charger allowing you to have one on charge and one powering your Pleo at all times.
Like any pet, your Pleo is going to need to grow. When switched on for the very first time it will start in it's birth phase, which lasts around 10 minutes. He'll move slowly at first while he adapts to his new environment. He likes to be stroked, which encourages him to move on to his 'hatching' state. In this stage he'll start to walk, need to be fed and will sleep when tired. After 45 minutes of this stage your Pleo will become a juvenile - a state in which he will remain for the rest of his life (apparently Pleos never grow up!).
Pleo has all the senses you'd expect from an active pet, well - one made of rubber and metal - including touch, sight and sound. Taste and smell being missing!
The easy to read manual explains all you need to know about your new pet; about what he likes; doesn't like; needs and wants.
Your Pleo can grow beyond it's original capabilities. Like all technology these days it can be 'upgraded' over the Internet.
Despite the fact the Pleo has an SD card slot and a USB connection - you can't simply download data to the card, which would have been nice. Instead you'll need a separate SD card reader. This was our first problem since we didn't have one to hand and so caused a bit of a delay. It would have been so much easier if the Pleo had been able to do this for us - this seems an odd omission in an otherwise well thought out product.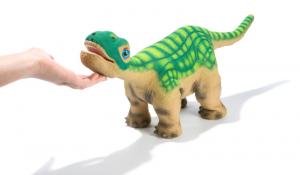 click image to enlarge
Our first 'on-line' operation was to upgrade the firmware or "LifeOs" on our Pleo. This is of course one area in which Pleo deviates from life - despite possibly being in need of a LifeOs upgrade myself, this ability is denied me! The Pleo World web-site contains LifeOs version 1.1. Since there appears no obvious way to tell which version your Pleo is running we guessed this was a good first move. Having registered (with rather a lot of personal information) we downloaded and went through the upgrade process. Given how quickly this happened compared with the instructions I believe our little Pleo was already upgraded!
The other thing you can download is a range of personalities. Again you download these from the Pleo World web site, copy them to a blank SD card, put them into your Pleo and switch on. I had a play with the 'Holiday' personality (well - it is almost Christmas!). With the new personality installed our Pleo started with humming a range of festive tunes including Rudolf the Red Nosed Reindeer and Jingle Bells. Very amusing. If you're intending Pleo to arrived under the Christmas tree it might be fun to install the holiday personality first!
Despite the Pleo booklet saying that the USB cable is only required for software upgrades, as far as I can determine it's not actually used for any consumer function. Given there is a range of developer tools I'd guess the USB is used for debugging.
For those into 'social networking', no high-tech gadget would be worth its salt without it's very own community. In this case it's a 'Plogging' tool (Pleo Blog - naturally!). Over 20,000 people have registered with the Pleo community, although it's not clear how many have written something. You can see our Pleo wandering the GadgetSpeak offices on our very own Pleo Plog (it's here - it'll open in a new window). You'll see that we named our Pleo 'Beatlejuice' - please visit our Plog and leave is a comment.
The Pleo is an excellent toy. We've only had our review sample for a couple of weeks so he's still very much in the learning phase. It does however exhibit some very life-like properties including snuggling up into your arms if you cuddle it - and also on one occasion head-butting our rather bewildered moggy.
At around £200 $320 £200 Pleo is at the top of most peoples price range for a toy, however for those with a persistent child after that puppy, the Pleo could be a welcome distraction. You also do get a lot of technology, and a lot of fun for your money which becomes evident when you compare how expensive are some other toys.
The best price I found was, surprise surprise, Amazon at £171.05, including shipping.
From Amazon the Pleo is available for $320.55, including shipping.
P.S. whilst finishing this review little Beatlejuice has wandered over to a corner of the room and has managed to get the strap of a bag into it's mouth and is making munching noises!