Canon Ixus 860IS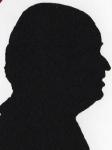 This is the latest in the excellent Ixus digital camera range, in August 2006 the Ixus 700 won the rarely awarded 5x5 award. Does this latest offering live up to this rarely awarded accolade.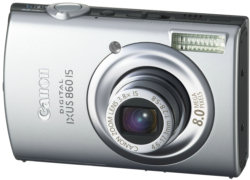 Like all of the Ixus range it is small at 9x6x2cm the last figure the width doubles when the 3.8 to 1 optical zoom lens is fully extended. This is very solidly constructed unit so it weights 120grams.
The base has the optional tripod screw, and cover that hides the li-ion battery and also where you would insert any SD/MMC card. The right side has a very solid anchor point for a wrist strap.
On the face is the 4.6 to 17.3mm lens and above and to it's left is a good meaty flash. The top has a slider to let you select still image or video, the on/off button and the shutter release with the wide angle telephoto adjustment around it's outside.
This leaves the back that is dominated by the 6x4.5cm TFT, to the right of this are four well marked buttons and the ubiquitous five position joystick control. That's everything but just because there are only a few controls do not think any the less of the camera. It is of course well designed and virtually any adjustment is only a couple of pushes away.
Unlike a couple of recent cameras I have seen the display accurately displayed the image before taking and indeed once captured. I was very impressed with the 640x480 video at 30fps and some is already displayed on a couple of jazz websites. There is a downside, the amount of space it takes on a card at around 56MB per minute a lot more than most other units of this type. Quality was excellent as was it's ability to record in poor light and still give a good image. There is an economy mode but even that uses more than 30MB a minute. You could also take images at 320x240.
However this is primarily a digital still camera and it's images even when you reduce the 8MP maximum down to 3MP I still got perfect A4 borderless images. The possible modes are L 8MP 3264x2448, M1 5MP 2592x1944, M2 3MP 2048x1536, M3 2MP 1600x1200, S VGA 640x480, postcard 1600x1200 and wide-screen 3264x1832. There are three compression modes for each resolution so 21 possible shooting types.
Of course there is red eye correction as well as face detection. The wide angle 28mm lens means it is a lot easier to get a group of people in a single image without having to go a long way away. My tests normally take in my local jazz club and from my normal seat I often struggle to get even a quartet in the same image with some cameras, not so with this Ixus. Another problem I sometimes have is that the drummer who is always furthest away in an alcove often fades into the background with a lot of ineffective flashes. Here again no problem the drummer comes out clear and sharp.
For those wanting to progress there are no less than 17 shooting modes to help you get the correct effects. My colours also helps as this can be applied either before or after shooting.
So what if anything is wrong with this Ixus, very little, I do find the amount of SD card space used a puzzle but the movies are great. As always I would like to see a simple case or pouch to protect the vulnerable TFT screen. While a 32MB SD is slightly better than 16MB this dates back to the time when dozens of images fitted onto the card and when the memory itself was expensive. Now with decent capacity SD cards costing only around £5 there is only one reason why they are not included.
Doing my Internet searches found the Canon Ixus 860IS at a best price of £198.93 including delivery from the first link below.
http://www.amazon.co.uk/Canon-IXUS-860-Digital-Camera/dp/B000V9F492
http://www.canon.co.uk/For_Home/Product_Finder/Cameras/Digital_Camera/IXUS/Digital_IXUS_860_IS/index.asp