Pioneer Wireless Speaker System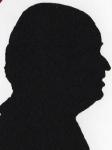 Review controls
This is a wireless (Bluetooth) speaker system that can also import via 3.5 jack and 'i' device dock. Pioneer is one of the better names in audio and the 30 watts output may convert you to this unit. So have they shrunk size to compete in this competitive area?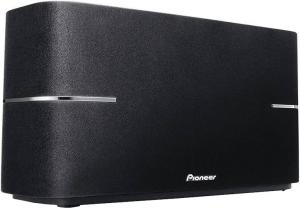 click image to enlarge
Pioneer XW-BTS3 bluetooth speaker measures 33x10x16cm, the last figure is without anything in the iPod device dock. My unit was white but they also do it in more standard black.
Bluetooth is the main selling point here; it was easy to link to a range of devices. You can also use the 'i' device dock which of course will also charge your device while in place provided you keep the power lead connected to it.
Given the size of the iPad I suspect that it will not connect directly to the slightly recessed dock but iPhones and iPod should not be a problem.
The final connection method is via anything with a 3.5mm lead (not supplied) to allow any MP3 player or other such device to have a quality output for the music on it. However standard 128mbps audio is always going to be limited. More recent downloads are often at 256mbps and even 320mbps but other less compressed sounds are even better.
Fabric surrounds the four sides with coated wood top and bottom. It can be controlled from a remote control or by the five buttons and two LEDs in front of the 'i' device top on top of the unit. There are 25 pages of English documentation in the small Operating Instructions all but a couple of the illustrations are very readable, the bold print and small size make these a little hard to read but the instructions are otherwise quite clear.
Four small rubberised feet are supplied to fit over the flush screws in each corner of the base.
The small remote control 8.5x4x.5cm is powered by a circular clock type battery (supplied). It has a total of fifteen buttons, these were well marked and explained in detail in the Operating Instructions manual. It is stated to work at up to seven metres from the unit but of course it needs line of sight.
The rear has a line of three connections, the DC input – the lead from the device to the small power brick is only just over a metre so you may need an extension lead unless you wish to use it need a power outlet, next is the 3.5mm input and finally a RCA socket to enable video to be viewed on a suitable screen or TV (lead not supplied).
The 30watt output comes from two 15watt speakers which have 3inch drivers these give a very respectable bass sound.
The remote can pause anything playing when connected by Bluetooth. If your 'i' device is docked you can play, pause increase or decrease volume and move forward or backwards through tracks.
As regulars will know I am a jazz fan and while I was perfectly happy with the bass sounds – for a unit without a separate sub-woofer – however higher ranges feared less well things like cymbals and flutes were somewhat muted.
While a lot of Bluetooth devices are simply used to mean your iPod or iPhone does not
need to be docked however this unit supports DLNA or AirPlay over Bluetooth so you can enjoy sounds from your notebook or other such device.
So to try and answer the question I asked in the introduction Pioneer have managed to bring quality to this smaller device meaning it is certainly worth consideration. If I have a minus point it's a lack of a solid internal battery to give you flexibility to listen when away from a power socket. A long extension lead to listen in the garden is not an ideal answer.
The Pioneer XW-BTS3 (in black) is available from the link below for £99.98 including delivery from the link below.
http://www.amazon.co.uk/gp/product/B00B1VECOW?ie=UTF8&tag=gadge0a-21&linkCode=as2&camp=1634
http://www.pioneer.eu/uk/products/42/202/227/XW-BTS3-W/page.html