Ideal first Mobile Phones - Alcatel OTS520 and OT-V212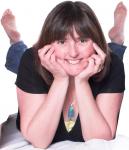 Here we have two neat little phones for first timers. Easy to use and tiny enough to fit small pockets, Alcatel offers good value Pay as You Go phones which would make ideal first mobiles for your kids.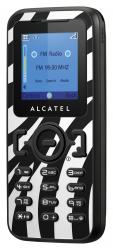 click image to enlarge
Two new little phones for little ones from Alcatel this Christmas.
The Alcatel OT-V212 Zebra is a neat little starter phone with funky design for younger kids. This phone has the usual calling and messaging functions. It's additional features include alarm, calculator, clock, choice of language for messages and a personal dictionary. There are just two games - Russian and Bricks. There's a radio but no MP3 player. The phone has a snazzy Zebra print pattern and matching Zebra sock and black and white bangles. The package also comes with headphones to use with the radio. You do need to use the headphones that come with the phone as they fit in the same jack as the battery charger.. The radio is easy to tune, but clearly meant for outdoor use. It was hard to pick up the signal indoors. However, outside the sound quality is good. The OT-V212 is very light and dainty and will slip very easily into a small handbag or pocket.
The Alcatel OT-S520 is another starter phone but with it's more stylish metallic finishing and the addition of a multi-media player and point and shot VGA camera, it's clearly designed for a slightly older child. The phone has a small memory for images and music but will accept a memory card to increase it's capacity. There's also a games and applications area to download new games to your phone. Comes in stylish black or red metallic finish
These Alcatel phones are low cost, easy to use phones that are great for first timers. Both the Alcatel Zebra OT-V212 are available at £14.99 exclusively from Woolworths. For more information about ALCATEL please visit www.tctmobile.com.
Here is the link to the Zebra on the Woolworths site :
http://www.woolworths.co.uk/web/jsp/product/index.jsp?pid=51645557
The OT-S520 is available in store at Woolworths.