Avoid missed calls with the Doro RingPlus

The Doro RingPlus ringer amplifier has an extra loud ring and a strobe flash both of which are designed to catch your attention when the phone rings. While actually designed for the hard of hearing, who will often use a hearing aid compatible telephone, a bit of lateral thinking makes one realise that it has a wider range of uses in residential and business scenarios.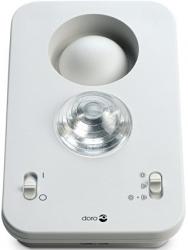 The RingPlus is simple to install and setup without needing any direct connection to the telephone system. It is a 115 x 185 x 35mm thick rectangular white box with two keyhole slots on its rear face for ease of mounting. It only has two switches: power and the three-position sound/strobe/sound & strobe and one adjustable tone control. The mains power module has a two metre cable and, although the microphone sensor only has a 15ft cable, a 3.5mm audio extension cable can be used to extend its reach.
Having mounted the unit, it is only a matter of positioning the microphone sensor, which is a 33mm flat disc, in the position under the phone where it gave the best signal. Then, depending on the switch setting, an incoming call will cause the RingPlus to sound, its strobe light to flash or both.
Both the sound level and the brilliance of the flash provided adequate alerts -- the only caveat being that the unit needs to be located appropriately. For example, one cannot expect to be able to see the strobe flash in brilliant sunlight.
The only problem that I experienced was keeping the sensor in place so that it gave the best signal. This was resolved by looping its cable around the phone cable (to prevent it getting tugged) and then holding it in place with Sellotape. Even though the mains unit looks a fragile and the tone control does not seem to be very effective, overall, the RingPlus appears to be quite effective and well worth looking into.
Although part of the Doro "Care" range, it has a far wider use. If, for example, installed in the stockroom behind a shop it will alert staff to phone calls that they otherwise would not be able to hear. It could equally be useful in a workshop where the noise of machinery makes it difficult to notice an incoming call.
This is a well established, but little known, product which is available from Amazon from £25.49, including free delivery. This is a reasonable price to pay to reduce the number of avoidable missed phone calls.