Uniross 1 Hour Battery Charger

Published May 19, 2008 Author
petew
Review controls
Rechargeable batteries have huge advantages over their disposable counterparts, but you do need to be able to charge them!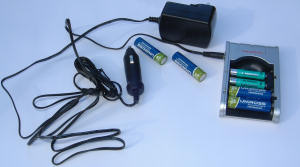 Uniross are now a very well known brand both for NiMh batteries and for the chargers you need to keep them operating. The range of chargers available from Uniross itself can be fairly bewildering. In this review I'm looking at their latest fast charger.
The charger is packaged with 4x2700mAh AA size batteries - the highest capacity we've seen available. Be aware that the one hour fast charge time stated in the product's title only applies where you're charging two AA batteries. If you charge four simultaneously then the charge time will be about three and a half hours (not sure why there is such a drastic fall off - taking four times as long to charge twice the number of batteries).
Lower capacity batteries will charge in less time - two 1600mAh AA cells will take 40 minutes as will a pair of 700mAh AAA cells.
In my experience the weak point in the environmental credentials of rechargeable batteries over their disposable equivalents has been the charger. Over the years I've managed to get through a number of chargers - each generation lasting less time than the previous. In that time I've owned around five Uniross chargers - each with it's own limitations. Common in the list of problems has been the way the charger adapts between AA and AAA battery sizes. The most successful used a spring-loaded construction that held the batteries firmly for charging.
This particular charger has a variation of the least successful mechanism I've seen - a flip down arrangement. In this particular instance the construction does appear to be more robust than previous models. I've made repeated tests of charging AA and AAA sized batteries without problems. I obviously can't at the moment attest to the long-term reliability of this mechanical design, but experience suggests this will be the weak point.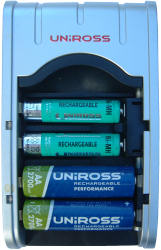 As has also been a trend with chargers from Uniross over the years - it becomes harder with each generation to take the unit apart for repair. Early models were held together with screws and when the mechanical connectors failed I was able of several occasions to make a repair by taking it apart. This ability to repair undoubtedly contributed to the relative longevity of that first charger. Subsequent designs used proprietary screws that were virtually impossible to remove. This incarnation appears to be a sealed unit so repair isn't going to be possible.
There may well be an argument with some chargers on safety grounds to disallow such repair but this does not help the green credentials - products should come with a long life warranty and/or allow for repair by a qualified individual. To offer such a warranty encourages good engineering design and reduces waste. I couldn't find information on manufacturers warranty either with the product or on the companies web-site. There is quite a lot of information on the Uniross web-site about the environmental impact of batteries and of sustainable development, but this does not mention the chargers themselves.
The Uniross fast-charger can charge four batteries simultaneously in two separate charge compartments. Each compartment can hold two AA or two AAA cells. The charger itself is very small and easy to pack for travel. Power for the charger is provided either from the mains via the provided 12V/1.2A adaptor or from a cars auxiliary power socket (cigar lighter!). A suitable adaptor is provided for in-car use.
My short testing of this charger from Uniross has been very positive - it does what it says on the packet, is ideal for travelling - aided by the ability to charge on the move from your car supply. From a price perspective you can get the fast charger including 4xAA 2700mAh batteries for a very reasonable £21.39 (from Amazon). Considering the price of the batteries alone is £6.99 (incl. shipping) the charger is relatively inexpensive, which undoubtedly leads to the argument that when the charger breaks you just buy a new one!