Doro 6520 Easy phone

Review controls
The Doro 6520 is the latest clamshell "easy" phone with added features aimed at the needs of the elderly and frail. It offers greater security to them and peace of mind to their relatives.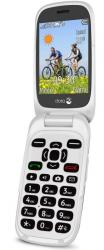 click image to enlarge
Doro claims to be a global leader in telecoms for seniors, hence phones in its Easy range are designed to to be straightforward to use. The 6520 has a 2.8 inch screen, can have larger than usual type size, has loud and clear sound, is hearing aid compatible and incorporates an assistance button which, when pressed, will send an alert to pre-set numbers.
When closed this phone is roughly 10 x 5.5cm x 2cm thick and sits comfortably in the hand. Weighing roughly 100 g is hardly a heavy burden. When opened it is 19.5cm long with the earpiece/microphone separation being about 16.5cm. Many people will find this makes for a more satisfactory feel than with many other phones when making a call.
It has a removable 800mAh lithium battery which is claimed to provide up to 8 hours talk time and 380 hours standby. The microSIM and the SD memory card slots are behind the battery. Although not included with the review unit, the Doro web site says that a charging cradle is included. This is extremely useful in helping to ensure that one does not forget to recharge the phone at regular intervals.
In addition to the normal keys on the keypad there are four additional ones: A and B speed dial buttons; camera and an envelope symbol to access the messaging functions.
The phone has a full range of features. They are set out in a manner which is familiar to previous users of Doro Easy phones. However, as this can be confusing for a new user, as usual many of them can be disabled initially (Settings/General/Block Function) so that, for example, nothing happens when one presses the Camera button and all the Message functions can be disabled (and are similarly invisible) and then, as the user become more conversant, features can be reintroduced. What is confusing, however, is that one has to tick items in the Block Function menu to enable them rather than the other way round.
Similarly, predictive text, which many find very useful, can also be confusing to those who have not previously used it so it can be turned off. In addition, even when set, it can also be over-ridden so that it does not get confused when inputting, for example, a group of letters and/or figures which do not constitute a word.
The supplied leaflet which, unusually, has easily readable size print covers many of the basic features while the downloadable 72 page manual is written in plain language explains most everything else. Nevertheless, even though Doro has put in a lot of effort into both the phone and the documentation to make it easy for the new user to start with the basics and then, before too long, enabling additional features it is still ideal if the salesman in the shop or a friend helps the new user getting to grips with the phone.
One area where this is important is with respect to emergencies. The Assistance button, when pressed, will send a text message in turn to up to three pre-set phone numbers of people who will be able to set help in motion in the event of a problem occurring. Should such a problem arise, an important section in the phonebook, which can hold up to 500 entries, is ICE (In Case of Emergency) that can be set up to include important information such as allergies and medication.
Overall, this phone which is very easy to use has added features that are of importance to many vulnerable people and yet still appears to be a normal phone. This is important as it does not undermine the apparent independence of an elderly person. Priced at around £80 it is a well made phone that satisfies an important need and so is a good choice of phone for an elderly, and possibly frail, person.