Olympus Tough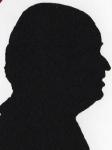 Review controls
I normally think of Olympus as a manufacturer of removable lens cameras which normally makes then larger than pocket size. Here a unit that will easily fit in a pocket and also one that can survive the odd drop or immersion in water.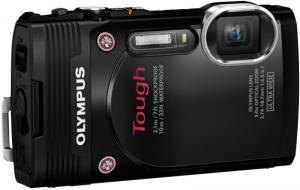 click image to enlarge
The Olympus Tough TG-850 measures 11x6x2.5cm and weights 216grams. Because it is waterproof the zoom is internal so the dimensions given are maximum.
There is a printed 'Basic Manual' in 29 languages, the full manual together with software is on a supplied CD-ROM. Charging is by USB but do not lose the supplied lead as the end that fits in the camera is not standard.
The face has the lens top right with the flash beside and slightly behind it 1.5cm away. The base has a tripod mount screw towards the left side. The right side is clear and the left side has a two action to open door behind which is the battery, any SD card you use and external connections.
The top has twin pin hole microphones, silvered on/off button, silvered shutter release and a side to side control for wide angle or telephoto control.
This leaves the back that has a 6.5x4cm TFT display that hinges from the top to allow it to rotate by 180degrees so if you wish you can take selfies. To the right of the TFT are from top to bottom a rubberised thumb support button with the instant video button beside it, below this an eight position wheel that may well require a read of the full manual to explain its functions, review button, then the ubiquitous joystick control and final near the base the menu button.
This unit has an amazingly wide field of view with an ultra-wide 21mm lens. Most other units – even without the Tough options – are no better than 24mm. While this means the field is wide it also means more can be captured when close to you. I capture images at a regular gig and often cannot get far enough back to capture a full quartet or quintet in a single shot simple because the room is not wide enough for me to get far enough away.
16MP still images are possible and full HD 1920x1080 video as well.
This is a very versatile small unit that during my short test period I took some good video and many excellent still images both with and without flash.
If you are a novice user stick the wheel in Auto mode and let the camera make the decisions, for those with more knowledge investigate some of the added filters to give excellent effects on the camera rather than post capture. There are 18 separate scene modes.
While the unit has 5x optical zoom this can be combined with digital zoom to produce 20x.
For the expert five pre-set White Balance choices and Manual sensitivity between ISO 125 and 6400.
In sequence mode it can shoot 60FPS in 3MP mode and 20FPS in other settings. It can do 7FPS in 16MP.
There are four image sizes available 4608x3546, 3264x2448, 2048x1536 and 640x480. Aspect Ratios of 4:3, 3:2, 16:9 and 1:1.
This camera takes great images can survive drops up to 2.1metres, work underwater to 10metres and even in temperatures down to -10degrees Celsius. I have taken the manufactures word for these figures as the short test period did not allow me the time to do such adventurous things.
The Olympus TG-850 Tough is available from the first link below for £249.99 with free delivery.
http://www.amazon.co.uk/gp/product/B00HWRHECQ?ie=UTF8&tag=gadge0a-21&linkCode=as2&camp=1634
http://www.olympus.co.uk/site/en/c/cameras/digital_cameras/tough/tg_850/index.html