USB 'C' Smart Reader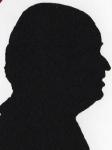 This device is small but can allow a lot of things that would otherwise cause problems for those who find themselves with a USB 'C' port as their only easy method of getting data from either a phone or one of the growing range of Notebooks and Tablets that only have this method of transfer. I found it also worked on the SmartPhones I tested it on.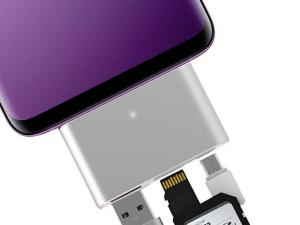 click image to enlarge
This small USB 'C' memory card reader measures 5.5x3x1cm and weighs 21 grams. The 3cm depth is increased by 1cm when not inserted as this the amount the USB 'C' port sticks out of the back of the hub.
I use the word 'Hub' as when you first insert it that is what Windows calls it. The box calls it a Type-C Smart Reader but it is actually a quadruple adapter and also has an LED light on its top.
The front has four connections all only useable one at a time so on a Notebook or Tablet with a 'C' drive it will appear as 'D' whichever port you are using.
The ports are Micro USB, USB3, Micro SD and SD. The one thing this device will not do is charge a device it is solely for data transfer.
If for example you plug in a Micro SD card you can see the contents of the Micro SD card and write or copy files to that card. If you then plug in an SD card this cannot be seen by Windows or Android until the Micro SD Card is removed.
Once the Micro SD Card is removed the SD card becomes the 'D' drive in the example I used and you can copy or write files to that card.
The same is true for the USB3 port or indeed the Micro USB so best to only connect one at a time as only the first connected will be seen.
While you might think it would be nice to be able to copy data direct from one to another it would be confusing for both the device and yourself if this happened as you would never be sure which drive letter would relate to which device.
My unit was white front and back and silver grey top, bottom and sides which are made of aluminium alloy. Other colours are available.
Having a device like this means that all the problems caused by lack of a full sized USB port vanish and yes in my tests I even connected a portable external CD drive to the USB3 port and this also allowed data transfer and installation of programs to the Tablet it was connected to.
While I did not try it I see no reason why it could not be used as a backup device as a lot of Tablets have small SSD drives, a DVD could also allow backups to be made.
We all want smaller and lighter devices so they can be easily transported and that is partly why the optical drive was originally dropped now when in the office you most prized possession your data can be safely removed and stored even when you do not even have a single full sized USB port and just a single USB 'C' port.
Brando currently ship worldwide for free and my test device arrived in only a few days from Hong Kong.
It is available from link below for $20 (US).
http://shop.brando.com/Type-C-OTG-Card-Reader-Combo_p18118c1969d146.html